When Their Katrina Becomes Our Rita
Blog / Produced by The High Calling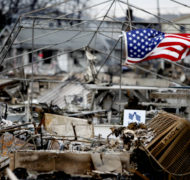 On the day that I married, 45 years ago, my mother handed me a small white Bible that became the base for my bridal bouquet of pink rosebuds. Inside the flyleaf of the Bible, she had written "Romans 8:28." Later I looked up the verse: "And we know that all things work together for good to them that love God, to them who are the called according to his purpose."
Sweet, I thought. Just like Mother. She had had her share of hard times, and no doubt these words had often consoled her. At that moment, however, my life still lay before me full of promise and opportunity. Only in the years to follow would I have occasions to remember those words and experience their truth.
In the aftermath of Hurricane Katrina, like people around the world, I watched with anguish the scenes of the storm's devastation in New Orleans and other Gulf Coast communities. I was grateful to hear of it when our town opened shelters for several thousand of the evacuees. Local citizens supplied an avalanche of shampoo, toilet paper, and food. A friend of mine gathered up one family's dirty clothes and took them home to wash and dry. My daughter volunteered at the Houston Astrodome, working to get an elderly woman in a wheelchair the medication she could describe only as "little green pills." The doctor that my daughter was assigned to help already had been working in the Astrodome twelve hours a day for two weeks straight. These are the people, I thought, called according to God's purpose.
In our town outside Houston, Katrina became the new word for genuine adversity. But hardly had we caught our breath from the television scenes of Katrina and human suffering, it seemed, when our own town fell into the path of Hurricane Rita. This time we had it in perspective. We had seen much worse a few weeks before on the Gulf Coast. Though some neighborhoods went without electricity for a week, we knew the definition of adversity—we were loathe to complain.
For all of us, sooner or later, adversity leaves the news reports and enters our own lives. Not necessarily a tsunami or an earthquake or hurricane; most often the suffering is more individual, more personal—a long illness, a divorce, a lost job. As we enter the tunnel, as we move through the dark night, it's hard to see how the events and pain could possibly add up to anything positive. But we have the example of others. When we are tempted to dismiss St. Paul as a Pollyanna—this man who advises not mere cheerfulness in the face of adversity but actual rejoicing—we remember that he himself experienced beatings, imprisonment, shipwrecks, and stoning.
Since my wedding day, when my small white Bible was covered in pink roses, I have seen bad things happen to good people, and I have experienced difficult times for myself. Their suffering has helped me in my suffering, and my wounds can help to heal others. I can say to others now, as my mother wanted to tell me those 45 years ago, that as long as I stayed open to the possibilities for the good they worked in me, those times have been my greatest teachers.