Who Will Set Me Free?
Daily Reflection / Produced by The High Calling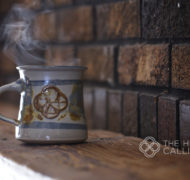 Oh, what a miserable person I am! Who will free me from this life that is dominated by sin and death?
Romans 7:24
Though we have been saved and forgiven through the grace of God in Christ, sin continues to war against our souls. Sometimes, indeed, it can seem as if our life is dominated by sin. Most Christians I know admit to having certain sins that plague them like mosquitoes on a warm summer evening. Sometimes it seems as if they'll never go away.

We won't get rid of the sin in our life by trying to swat each wrong intention or action. True and complete freedom comes only from Christ. As we receive his forgiveness, as we open our hearts to his Spirit, as we spend time in his presence, and we devote ourselves to his will, as we grow in fellowship with his people, Christ sets us free from the domination of sin.

So if you're struggling with certain kinds of sin, turn to Christ. Confess your sin and receive his forgiveness. Let him live within you, so that sin will lose its grip on your heart. And when you fail, don't wallow in guilt. Rather, turn once again to Christ, who will forgive, restore, and empower you to live for him once again.

QUESTIONS FOR REFLECTION: When have you felt defeated by sin? What did you do? What helps you to experience the presence of Jesus?
PRAYER: Dear Lord, I know so well that I cannot save myself from the power of sin. My efforts will never be enough. But you have the power to do that which I cannot do myself. Not only have you forgiven me, but you have also provided a way for me to live in freedom from sin's power.

Let your freedom reign in my life, dear Lord. Help me to desire you and your holiness so much that sin loses its attractiveness and power.

All praise be to you, Lord Jesus, for breaking sin's power and inviting me into your life of holy love! Amen.