Win the Right to Be Heard
Blog / Produced by The High Calling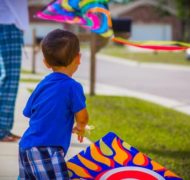 In the spring of 1983, during my last semester of seminary, I accepted a position with Young Life. The position had an impressive title, Area Director of Young Life in the Houston Bay Area. The position also presented a significant challenge: There was no Young Life in the Houston Bay Area. That was okay, because I had a big five-year plan to launch ministries in three area high schools. We would recruit and train leaders, network with area pastors, school administrators, and other community leaders, raise a budget and—at the heart of the plan—build friendships with high school kids. Young Life folks call it "winning the right to be heard."

That's where the simple prayer came in. I prayed that God would open the door to a friendship with one student who could be a springboard for reaching hundreds of kids. In my prayer, I called this student "Kid #1."

I moved to the area in July and joined a gym near Clear Lake High School. On my very first day at the gym, I met that first kid (I will call him "Carl"). He was training for football, and we lifted weights together several times before two-a-days started. He introduced me to some of his buddies, telling them that I was an all right guy who was going to be starting a cool deal called Young Life. I was sure that my simple prayer was being answered.

When school started, however, things took a sharp turn for the worse. One of the school leaders, captain of the football team and senior class president, decided that Young Life was a cult, and that I was a dangerous cult leader. He warned everybody about the perceived threat, and just about everybody believed him.

A dozen kids still came to our first meeting in the fall and maybe half that many came to our second meeting. Where was Kid #1? Carl told me that his father ordered him to stay away from Young Life, based on the rumors. I tried to meet with Carl's dad, but he was not particularly interested in meeting with a dangerous cult leader.

It took months of hard work and prayer to overcome the rumors. By the end of the school year, we were drawing close to 100 kids each week. Carl's buddies came. Carl's sister came. Carl never showed up. In the next two years, we started ministries at two other area high schools. The five-year plan was fulfilled in three years. I tried to stay in touch with Carl. He was making some disastrous choices. I heard rumors about fights and criminal activities. He was a mess. He seemed unreachable.

I went to law school in 1988, but I continued to work with Young Life as a volunteer. In the summer of 1991, I was preparing to take the bar exam. One afternoon, my study session was interrupted by a phone call. It was Carl. He said he wanted to come over. I told him that I was busy—that I would be glad to catch up with him after the bar exam. He told me that he could not wait. A few minutes later, he showed up.

Carl told me about his misadventures, and he told me about his dream of moving to a new place, starting over. He told me that there was something he had to do before he left town: he had to "get right" with God, but he was not sure how to go about it. That afternoon, almost eight years after I met him, Kid #1—by faith—became a child of God.