The Wisdom of Wilderness
Blog / Produced by The High Calling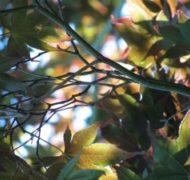 Hi there, I'm Laura Boggess. In the summer of 1990, I had just finished my undergraduate degree in psychology and was preparing to move to a new city to attend graduate school. Before the move, I went to say goodbye to my father, and found something else instead. That summer day, Dad wasn't home. But I wasn't ready to leave. I sat in my car in front of my childhood home, keeping company with memories. It was one of those rare mid-August days when the sky is so blue it makes your heart ache to look at it. The trees were gently waving; sunlight trickling through leaves—weaving a lacy pattern over me. I heard the call. So I went for a walk in the woods.
When L.L. Barkat called to ask me if I would consider leading our next book club discussion, I remembered that walk. "It's one of the books," she said, her voice taking on a wistful tone, "that I sat down with and read in its entirety. I couldn't put it down." The Wisdom of Wilderness: Experiencing the Healing Power of Nature by Gerald G. May, is this noted psychiatrist's final book before his death in 2005. This book-journey describes "the healing and wholeness May received through spending time in the wild…" The preface opens with these words: "I am sick now. The prospect of my death is continually before me. My body is frail, my energy always at the edge of exhaustion. At the same time, I am wilder than I've ever been before. My soul basks in wilderness, and I am grateful." Wow.
Your wilderness may be an unexpected place. Perhaps it's your place of work, in the midst of family, or in your aloneness. Wherever it is, May contends, a Divine Presence is there—waiting, guiding, teaching. I felt It on my walk all those years ago—in the way the bark of the trees felt under my hand, in the softness of a mossy covered rock, the way the small stream passed through it all…mindless of its intrusion. I remember that I stumbled upon a bed of trillium that day, hidden from prying eyes deep within that forest. I felt the gift of those delicate white flowers; knew God had brought me to that place. I sat on a rock in the midst of that gift-bed and remembered. I remembered how this forest had cradled me as a child—rocked me away from a home filled with uncertainty. The wind in the trees whispered stillness over me, and my heart was quieted. God was there with me. I felt His wisdom in that wilderness.
I can't wait to share this extraordinary book with you. There are eleven chapters, and we will take them one by one. We begin Monday, October 5th with chapter one. Please don't skip the Preface, it will help prepare your heart for this journey. If you can't participate by reading the book this time around, I have another proposition for you. Consider spending some time in nature at least once a week. Try to hear what the wilderness is telling you. Then come back here and share it with us. It's going to be good…
Post written by Laura Boggess. Red Maple photo by L.L. Barkat. Used with permission.