The Word and The Voices
Blog / Produced by The High Calling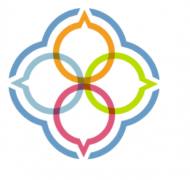 One day, sitting in my office writing something—probably a student's letter of recommendation—words came to my imagination: "I only want to sew, to have my hands in the threads." I jotted them down and, over the next few months, followed the voice.

It turned out to be Dorcas, the New Testament seamstress who occupies only seven verses, in Acts 9:36-43. She lived, died, and was brought back to life because the widows with whom she sewed pleaded with the Apostle Peter to pray for her.
In the short story Conventional Wisdom by Stanley Elkin, a convenience store worker is shot during a robbery and goes to hell. Describing hell seemed to be easy. Heaven was harder to imagine. I kept writing. I researched Joppa where Dorcas lived, the clothing of the time, the food sold in the marketplace. I questioned. What was her life like? What happened when she died? When she returned to life? Is it right to go back and recreate someone's voice? What if I meet her in the afterlife and she asks me, "What do you think you were doing?" How far can we take creativity, knowing the Bible's warnings against the imagination?

Yet the Bible has many blank places. And I wanted to know more about Dorcas. I wanted to work through the writing process about someone who lived, yet whose life is not known. I wanted Dorcas to speak, even in a language not her own. I also wanted to work through the personal transgression I felt while writing. Each book I write about someone else is also a personal journey. I teach full time and would return to my office between classes, between committee meetings, between everything, and find Dorcas waiting.

Dorcas' book came to be titled The Closets of Heaven, and it came without great struggle. Some books are gifts like that. You discover a voice and follow it. Other books mostly are struggles that seem, after all, to come out right.

I like that the writing process comes in different ways. The next voices I'm working on are the four daughters of Philip who prophesied in Acts 21:9. The young women don't even have names. Writing gets harder sometimes. These voices come less easily than Dorcas' voice. I work to trace the young women from Caesarea to Jerusalem in the days after the crucifixion. What was it like in the upper room? What was it like after they scattered? When their evangelist father was often absent? What did he tell them about his travels? What did he say about talking to the Ethiopian man—after which he found himself immediately at Azotos where he preached (Acts 8:27)?

Writing for me is an act of hope, of mercy, of making something from nothing—a necessary act in my life.