Work. Eat. Play. Eat. Sleep. Eat.
Blog / Produced by The High Calling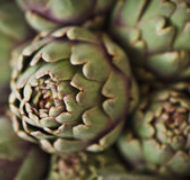 It seems that food takes a central place in our lives. Around the table we laugh, we fight and we pray. Food has been made a god, an idol and has been hotly discussed.
Debra Stephens, who blogs at Garlands of Hosannas, admits that she is often consumed with thoughts of food. And with good reason.
"Sometimes I feel bombarded by food commercials, food ads, and food shows. In America we have the food industry, the Food Channel, magazines and cookbooks galore, and restaurants on every corner"
She likens our food obsession with Esau's sin, who "forsook a rich inheritance for the immediate gratification of a bowl of stew."
Debra looks to God to set things straight, "who tears down idols, one crumb at a time." Read her post, Food, Marvelous Food.
Post Featured by David Rupert, High Calling Newsletter Editor.