The Work of a Physical Therapist
Blog / Produced by The High Calling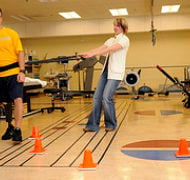 For all the talk about health care ethics and codes of conduct in physical therapy school, nobody ever taught me to care.
The tag line of the American Physical Therapy Association is "The science of healing, the art of caring." But how do you care for a relative stranger suddenly placed before you? No health science professor directly addressed where that comes from.
There's a science and art to all labor, especially that of health care professionals. But there is one thing that makes the art of caring intrinsic to the work of a physical therapist (PT), and that is time.
Time is always one of the costs of the lasting, noninvasive type of treatments that PTs hope to effect. Targeted corrective exercise and hands-on mobilization of muscles and joints simply cannot be accomplished in eight minutes every three or twelve months.
Time is why a PT and his patients get to know each other. Time makes it hard not to care.
The down side is that this art usually takes effort. It's inefficient. Art demands consistency and patience and listening. Scientific empiricism can be awfully attractive, especially on a long Thursday afternoon. Compared to art, those orthopedic tests and clinical prediction rules and post-operative protocols are wonderfully impersonal and beautifully straightforward.
There are patterns. Clinical pathways to uncaring, if you will.
Care is scarce when I've been rocking the party eight days a week. The days after overextending with family, at church, or (most often) goofing off on the computer or mountain bike are particularly...scientific. I don't feel like offering my neighbor a cold cup of water much less listening to the story about a cousin's wife's adorable cat for the third time.

Caring slips when the clinic is busy and the PT begins operating with even the slightest notion that patients are just a job that needs to get done, a schedule of backs, shoulders, and knees. Patients run late and insurance companies demand progress notes and everybody aches on a rainy Monday. When I've chosen to reserve little of myself for the people under my care, it's taken all too personally.
The time inherent in PT is drudgery when stuck in the mode of a skeptical Doctor Coldheart, but a day of caring flies by.
Being relatively rested and centered keeps me in tune with the limits of myself and my profession. Digging to understand deeper needs is light work. It's easy to lay down the chart until later so I can look a friend in the eye. Conversation flows two ways. It's fun to be a little silly.
I'm honored to approach these eternal mysteries wrapped in muscles, skin and sinew, who are temporarily dealing with sprains and strains and replaced joints. Physical therapists need to stand on evidence-based medicine. But in practice, the best things happen at the edge of science, where we can reach a person in need of some caring.
When caring doesn't come easy, I want to choose to live faithfully with time, the great gift. I wouldn't want to miss out on the regular reform it takes to put others first.
Can patients tell when caring is genuinely on their behalf, coming from a place of peace? Does that translate into improved physical function? I think so. Time will tell.
Post by Bob Gorinski.
Image by Commander, U.S. Pacific, used with permission via Flickr.