Working for the City
Blog / Produced by The High Calling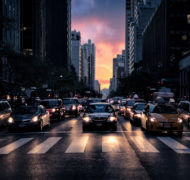 This year, over half of the global population will live and work in cities. That's a remarkable development, considering the fact that humanity began in a garden. In fact, the biblical vision of the future is a massive, resplendent city teeming with life and culture, ensconced in a new creation (Rev. 21-22).
Much of urban life is the product of work. If we are working in cities and moving towards a new city, then we do well to think about how our work relates to the city. One way we can work in the city is by making good culture.
Cultural apologist Ken Myers has defined culture, both literally and philosophically, as "what we make of the world." Wherever we work, we are making culture. In our culture-making, we should constantly ask ourselves: "What quality of culture am I producing?" Is it excellent or mediocre?
Does Your Work Really Matter?
When the demand of making good culture often goes unmet, it's because we think our line of work doesn't really warrant it. We think to ourselves: "My job isn't really that important. Why should I be concerned about making good culture? Does it really matter?"
At the end of Colossians, Paul tells the church, "Whatever you do, work heartily, as for the Lord and not for men, knowing that from the Lord you will receive the inheritance as your reward. You are serving the Lord Christ" (Col. 3:23-24, ESV). In the context of these verses, Paul was addressing the work of slaves. Apparently, their mundane work mattered. And remember, Paul himself worked in the mundane. He made tents (Acts 18:3). Paul leaves no work out: "Whatever you do, work heartily as for the Lord."
I'll never forget a story I heard from Professor Miroslav Volf. One evening, he was at a social function where he was meeting new people. In a particular conversation, he asked a man what he did for a living. The man responded, "I install urinals." Not exactly a conversation starter. How would you respond? Volf responded by thanking the man for promoting good sanitation. He pointed out that without good sanitation our cities would be cesspools. All work matters.
We can work for the city by taking our work seriously. Work does matter. We can also work well by thinking about how our work contributes to the welfare of the city.
How Can You Make Good Culture?
How else can we work for the city? Paul tells us to work "heartily," literally "from the soul." Not only does all work matter, all work should be done well. We should make good culture, do excellent work. Why? Because it is an act of devotion to God—from the soul—and for the Lord Jesus. Whatever we do, we are to do it well. Make the very best urinals you can. Install them well.
Consider the example of Longhorn quarterback, Colt McCoy, a committed Christian and, despite the fact that he didn't get to play in the national championship game, still finished his career with more wins than any quarterback in college football history. Colt worked hard, very hard, and he made good culture, entertaining and impressing millions of fans.
When interviewed about the injury that kept him from the biggest game of his career, through choked words, he said: "I always give God the glory." Not only did he make good culture, he also made God central. He worked from the soul and for his Savior. Whatever the work, and whatever the circumstances, we should make good culture as an act of devotion to our Creator.
Whether we work behind the stage in sanitation or on the stage in sports, God calls us to work well, to contribute to our cities by making good culture. Consider how your work contributes to the city. Are you doing it well? Are you making good culture?
All work matters, and all work should be done well. We've been created to create good culture, for the good of the city and the glory of God. Let's work that way, and who knows, perhaps some of our work will make it into the new city at the end of history.
Questions for personal reflection, online discussion, or small groups:
Do you tend to think that your work doesn't matter? How can you change that perspective?
How does your work relate to the city?
What can you do to make better culture through your work?
Does your work reflect your devotion to Christ? If not, how can you alter your work to do this?