Working for Free: The Unpaid Professional
Blog / Produced by The High Calling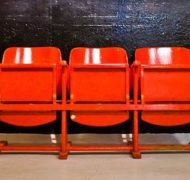 "What time is Mom getting off work?" my son asks as I tuck him into bed.

"It's tech week at the theater," I say. He knows this means long rehearsals and late nights, and he is a little sad. So I remind him, "Tech week is only a week long. Mom and Dad both have to work and do the things God made us to do."

I don't mention that Mom isn't making any money from her work. Our kids know this already. Whether a job makes money or not is only one factor in determining whether we take it on.

After years of paying attention to God's will for her life, her God-given talents, and the local need for good actresses, my wife has embraced community theater as one of her callings. She is an actress in our local community theater—and she approaches every new show as professionally as anyone I know.
Five Essential Elements of Professional Volunteers
Here is what professionalism looks like in a volunteer position:
She shows up early. She stays as late as needed.
She stays positive, encouraging others to reach their potential.
She learns her lines quickly, often before the first rehearsal, so she will have as much time as possible to fine-tune her performance.
She markets every show aggressively to friends, family, and community media outlets.
She stays in good physical health, so she will be able to perform to the best of her ability.
A friend of ours produces one of the top comedians on late-night television, and he has called my wife "the hardest working woman in show business." We have other friends in Actors' Equity, and they all spend less time performing than she does.

They need market value from their work.
Finding Freedom as a Proximate Professional
Thank God, we have structured our family's financial commitments around my pay. This means my wife does not need to be paid. She can pursue proximate professionalism.

Proximate professionals act with professionalism in the areas where God has given us a deep yearning to serve the world, whether we will receive professional pay for the work or not. I adapted this idea from Steven Garber, who first taught me about proximate justice at CCO Jubilee and Laity Lodge. Garber writes, "We take up our responsibility as citizens, realizing that our best efforts are clay-footed, our best insights are flawed." As a proximate professional, my wife does the same thing. Faced with limited ticket sales and corporate sponsorships in Kerrville, she chooses to do something rather than nothing.

Working for free as a proximate professional gives her more opportunities to work, and therefore more opportunities to create beauty in the world.

This is not always the obvious choice.

"You should get your Equity Card!" I tell her sometimes. "We live close enough to Austin. You can get an agent. Get some auditions. Get a few paying gigs!"

But Amy does not want to pursue paid work through Actors' Equity.

"How are we going to afford travelling to all of those auditions?" she asks. "And what if I get a part in a Houston show with a 12-week run? I don't want to leave our family for three months."

This is usually about the time that I stop suggesting she join Equity.

For the record, Amy is still a theater professional in the broader sense, because although she isn't paid as an actress, she is paid as an office manager and a director. Her paid work helps keep the doors open, so she and many others can perform as a gift to our community.
To Serve God as an Actor in Our Community, She Acts for Free
One could argue that working for free is shortsighted. Paying our actors might attract more talent. It would certainly provide some financial support to people who deserve compensation for their time away from their families.

Let's face it. Work is valuable, and people deserve to receive value for the work they do.

From a strictly economic perspective, work provides financial value. We work for income so we can buy food, shelter, clothing, and opportunity. Thankfully, my work for the H. E. Butt Foundation adequately meets our needs for food, shelter, and clothing. We have a modest home in Kerrville. We eat fresh, healthy foods that we cook at home. We buy most of our clothes at resale shops. We tithe to our church and other local charities. We are quite deliberate with our personal finances, and this sets us free to be quite deliberate with our choices of work.

Another way to say this: we refuse to let the market be our master. We decouple the purpose of work from the outcomes of work.

Everyone wants purpose and outcomes to align. In a perfect world, though, it wouldn't matter. In a perfect world, we work because the work is good, and God takes care of his children. The Bible has a name for this perfect world: The Kingdom of God.

My wife and I choose to believe good work is its own value.

Income is one expression of that value, the market value of work. Some groups work hard to defend the market value of certain forms of work through professional organizations and unions, and this is good so long as we remain open to other forms of value.

Because sometimes God calls us to work in places where we can expect no market value. In those times, in those places, we must still be faithful professionals, proximate professionals, doing the best work we can to provide the best product or service to the most people possible to the glory of God.
______________________________
Working for Free
In this series, Working for Free, we'll take a look at the different ways people navigate the world of working in a job they love, even when it might not be the way they make ends meet. Join the discussion or share your story in the comments. What do you think? Is passion enough?