Worship With Transparent Windows
Daily Reflection / Produced by The High Calling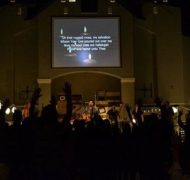 Praise the LORD, all you nations. Praise him, all you people of the earth. For he loves us with unfailing love; the LORD's faithfulness endures forever. Praise the LORD!
Psalms 117:1-2
One of the greatest challenges and joys of my life was leading a church during the building of a sanctuary, the space many would now call a "worship center." When I began my tenure as pastor of Irvine Presbyterian Church, the first major item on my plate was the building of a new sanctuary. I was blessed with an outstanding building committee, a group of highly dedicated, competent, and creative lay leaders who guided the design, fundraising, and building of the sanctuary.

In the design process, we had to make literally thousands of decisions. Some would affect the worship life of the congregation for decades. One of these watershed decisions had to do with the windows. Some on the committee preferred traditional stained glass windows. But the majority wanted clear windows so that we could look outside and see the world God created. We did indeed build the sanctuary with clear windows, to which we later added some artistic glass. The congregation loved the ability to see the sky and trees as we worshiped the Lord. But many were distressed by the fact that they could also see cars driving by or pedestrians walking the on busy street outside of the church. (Once in a while, they could also see the pastors' children sneaking through the bushes.)

As we consider what to do with the "traffic and pedestrians" problem, I became convinced that we should not shield the congregation's gaze from these potential distractions. Instead, I helped those who were distracted to reframe their experience. As they saw cars driving by or people walking along, they could remember that our worship was not just for us. Mainly, it was for God, of course. But God had placed us in Irvine so that we might invite our neighbors to join us in worship. Given the tendency of our church—and just about any church, for that matter—to become ingrown and preoccupied with its own experience, the clear windows offered a consistent reminder that our worship was for others.

In a sense, those windows do with architecture what Psalm 117 does with words. This psalm begins: "Praise the LORD, all you nations. Praise him, all you people of the earth." As we hear this call to worship, we are reminded that God seeks worship from all nations, all peoples, not just from those who acknowledge him at any given moment. God placed Irvine Presbyterian Church in the middle of Irvine, California, along with the other churches in that city, so that all who live there might be invited into worship.

You may very well worship in a sanctuary with stained glass windows or a warehouse that has no windows at all. If so, you don't have the benefit of a visual reminder that your worship is for your neighbors. Not to worry, however. You do have Psalm 117, which can widen your vision and enlarge your heart.

QUESTIONS FOR FURTHER REFLECTION: When you gather with your church for worship, do you ever think of your worship as being for your neighbors? Why or why not? If our churches were to take seriously this dimension of worship, how might it transform what we do? How might it transform our hearts?
PRAYER: Gracious God, whether the space in which we worship allows us to see outside or not, we ask that you would give us eyes for our neighbors when we gather to worship. Indeed, give us eyes for the world, so that we might seek to welcome all nations and all peoples into your presence. Give us a new heart, Lord, so that we welcome our neighbors through all we do. To you be all the glory! Amen.
______________________________
P. S. from Mark: I am very excited to tell you about a new book Called: The Crisis and Promise of Following Jesus Today by Mark Labberton, the President of Fuller Seminary. Several months ago, I had the opportunity to meet with the author in person to discuss his ideas and film short videos. I hope you'll take a moment to read some of our newly connected resources on Calling below.
______________________________
Mark Roberts is the Executive Director of Digital Media and the Theological and Cultural Steward for Foundations for Laity Renewal. He is the author of eight books, including No Holds Barred: Wrestling with God in Prayer. He lives in Boerne, Texas, with his wife, Linda. Their children spend most of the year away at college on the East Coast.
Called: The Crisis and Promise of Following Jesus Today
Last month, Mark Labberton, the president of Fuller Seminary and our personal friend published an incredibly important new book, Called. Mark Roberts, primary author of our Daily Reflections, felt so strongly about the book that he commissioned several videos to help bring Labberton's ideas to as many people as possible. Marcus Goodyear, editor of The High Calling, has said plainly, "If you read The High Calling, you must read Mark Labberton's new book."
Learn more about the ideas of this new book in our newest collection of videos and related content on Mark Labberton's book Called, as well as some of our most significant articles on calling, including this one hand selected by our editorial staff to be part of this collection.
Featured image by Patricia Hunter. Used with Permission. Source via Flickr.