In the Yearning and Finding
Blog / Produced by The High Calling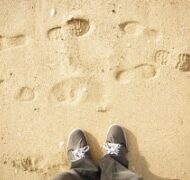 This is leg two in our Pilgrimage series. High Calling's photo editor, Claire Burge, leads the way for us. We began this current Friday series with a description of a pilgrim. Today I see her doing this: She turns the knob and the string scratches the afternoon silence. She turns the next one, plucks a chord, and allows it to hum across the sunshine that filters through the window. She keeps turning, plucking, turning, plucking until the sound is what it should be. It is the tightening and the testing, repeated over and again, that renders it "tuned." Pilgrimage is yearning for the right notes. Occasionally we find the notes and play a song or two. Then we re-tune. As I mentioned in the PhotoPlay prompt last week, photographs help us capture these "songs" along the way. They freeze time. According to this week's participants, these songs happen… …when life changes: …when choices are made: …when lessons are learned:
Not all of our photographs are happy, though many are. Rather, we take them because they capture both our yearning and our finding. Carolyn Arends writes about this in her (actual) song, Reaching:
"We are reaching for the future We are reaching for the past And no matter what we have we reach for more We are desperate to discover What is just beyond our grasp But maybe that's what Heaven is for I guess, I shouldn't think it odd Until we see the face of God The yearning deep within us tells us There's more to come"
Reflect on your own pilgrimage as you enjoy the photographs in the gallery below. Click on each thumbnail to see the full images and to read why this week's pilgrims chose them. Even if you didn't participate, if you have a pilgrimage story from your blog archives, please share your link in the comment section.
Feet on beach photo by Lin Tsunjeck. Used with permission. Post written by Claire Burge. ----- Follow along with this Friday series on pilgrimage: