Best of Daily Reflections: Is Your Faith Idealistic or Practical?
Daily Reflection / Produced by The High Calling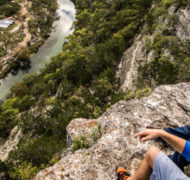 There, by the Ahava Canal, I proclaimed a fast, so that we might humble ourselves before our God and ask him for a safe journey for us and our children, with all our possessions. I was ashamed to ask the king for soldiers and horsemen to protect us from enemies on the road, because we had told the king, "The gracious hand of our God is on everyone who looks to him, but his great anger is against all who forsake him." So we fasted and petitioned our God about this, and he answered our prayer.
Ezra 8:21-23
Ironically, Ezra himself does not appear in the book bearing his name until chapter 7. This learned man, a priest and teacher of the law, came to Jerusalem with the blessing of the Persian king Artaxerxes over fifty years after the rebuilding of the temple. His assignment was to present offerings in the temple on behalf of the king and to establish the law of God in Judah, both by teaching and by appointing law-abiding leaders (Ezra 7:25-26).

Ezra did not explain the king's favor in terms of good luck. Rather, he credited God with putting "such a thing as this into the heart of the king" to send Ezra to Jerusalem (Ezra 7:27). Ezra "took courage" and acted on the king's order because, as he said, "the hand of the Lord my God was upon me" (Ezra 7:28). This language of God's hand being upon someone is a favorite of Ezra, where it appears six times out of eight times in the whole Bible (Ezra 7:6, 9,28; 8:18, 22, 31). God was at work in and through Ezra, and that explains his success in his endeavors.

Ezra's confidence in God's help was tested when it came time for his entourage to journey from Babylon to Jerusalem. "I was ashamed," Ezra explained, "to ask the king for a band of soldiers and cavalry to protect us against the enemy on our way; since we had told the king, 'The hand of our God is gracious to all who seek him, but his power and his wrath are against all who forsake him' " (Ezra 8:22). For Ezra, to depend on a royal escort implied a failure to trust in God's protection. So he and his retinue fasted and prayed rather than seek practical assistance from the king (Ezra 8:23). Note: Ezra was not following any particular Old Testament law in choosing not to receive royal protection. Rather, this decision reflected his personal convictions about what it meant to trust God in the real challenges of leadership. One might say that Ezra was an "idealistic believer" in this situation, because he was willing to stake his life on the idea of God's protection, rather than to ensure protection with human help. Ezra's position was not the only one deemed reasonable by godly leaders. Nehemiah himself took the exact opposite approach when he was pleased to have "officers of the army and cavalry" escort him safely to Jerusalem (Neh. 2:9).

Ezra's strategy proved to be successful. "The hand of our God was upon us," he observed, "and he delivered us from the hand of the enemy and from ambushes along the way." (Ezra 8:31). We do not know, however, if members of Ezra's party carried weapons or used them for protection. The text seems to suggest that Ezra and company completed their journey without a threatening incident. Once again, the book of Ezra shows that human efforts are successful when God is at work in them.

QUESTIONS: Where have you experienced success in your life? How was God at work in your successes? Are you an "idealistic believer" like Ezra or a "practical believer" like Nehemiah?
PRAYER: Gracious God, we are grateful that you continue to be at work in the world, through our relationships, our activities, and our vocations. Sometimes we are tempted to hold onto our successes and keep them for our own glory. Forgive us, Lord, for our desire to honor ourselves rather than you. Give us wisdom to know how best to share publicly your role in our success. Give us wisdom also to know when it is best to be idealistic like Ezra or practical like Nehemiah. Most of all, God, let us not judge others when they take a different approach to living out their faith than we might. All glory, honor, and power belongs to you forever. Amen.

P.S. from Mark: This week I'm taking a short break from our devotional study of Ephesians to focus on issues related to our work as Christians. The following reflections are based on an article I did for the Theology of Work Project which investigated what the Old Testament books of Ezra, Nehemiah, and Esther teach us about our work. I highly recommend the Theology of Work Project website. It provides a unique resource for Christians who are wanting to make connections between their faith and their daily work. I also want to thank my colleague, Marcus Goodyear, for helping me to produce our reflections for this week.

Image courtesy of Laity Lodge, one of our sister programs in the Foundations for Laity Renewal.