Your Work Is About Helping Others
Daily Reflection / Produced by The High Calling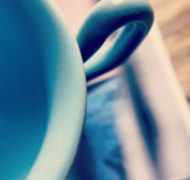 If you think you are too important to help someone, you are only fooling yourself. You are not that important. Pay careful attention to your own work, for then you will get the satisfaction of a job well done, and you won't need to compare yourself to anyone else. For we are each responsible for our own conduct.
Galatians 6:3-5
Introduction by Mark Roberts: At certain times throughout the year, I invite others to write a few Daily Reflections. This week's reflections will be written by J. B. Wood. In addition to being a Content Editor for The High Calling, J. B. is a Senior Vice President of a large business in the Northeast USA. At Shrinking the Camel J. B. regularly confronts the challenges of integrating professional life and spiritual life with humor. His most recent book is At Work As It Is In Heaven: 25 Ways to Re-Imagine the Spiritual Purpose of Your Work. I know you will be encouraged by J. B.'s reflections on Galatians 6. I'll be back with you on Saturday.
-

I always saw my job as something that revolved around me: my salary, my performance, my political savvy, my personal brand-building, my next big promotion. With the demands and pressures of our work, it is easy to get caught up in the drama of our own accomplishments, covering our backsides and forgetting everyone else around us. But when we take the time to come down to earth and look into the eyes of our coworkers, we discover there are people there, just like us, with souls and feelings and dreams.

Regardless of our position, the primary purpose of our jobs is in helping other people. This might involve an attitude of service with your employees or coworkers, or it may go beyond the inputs and outputs of your work to support the bigger picture of your organization's purpose: to enhance the community, provide jobs, and positively impact the environment.

Growth and fulfillment in our careers will come more from an attitude of giving rather than what we think we should be getting out of our job.
QUESTIONS FOR REFLECTION:
Are you overly focused on your own career development, or can you see the bigger picture of God's kingdom taking shape before you? Have you ever thought about framing your job around helping people? How would that change your view of work?
PRAYER: Dear Lord, we are faced with so many challenges in trying to do our jobs well. Forgive us for the times that we become too concerned about the work we are doing, on building our resumes rather than building the souls that we come in contact with every day. Help us to allow your Spirit to flow through us so that our working lives may be an offering of love and service to others. Amen.