Zdravo Means Hello
Blog / Produced by The High Calling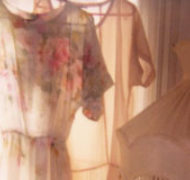 "Zdravo!" Jenny* calls to me from across the downtown Houston café where she and her friends are cooling off with iced coffees. She's tall and strong and wears a patterned scarf around her cropped hair. She looks ever so slightly like the Russian nesting dolls I adore; tiny, folkloric women whose bright colors and stern expressions demand attention on my kitchen countertop.
When Jenny and I first met a few weeks earlier, it was the elegant curve of Cyrillic letters on her wrist that caught my eye—ljubav, the Croatian word for love, delicately tattooed in black. I still recognize the Cyrillic alphabet even though it's been years since my Ukrainian father insisted I study it.
A sensitive poet and photographer, 18-year-old Jenny grew up in Texas but was born in a Croatian border town during the violent disintegration of Yugoslavia. She has only a few memories of where she came from, mostly around the Serbo-Croat language—a fragile linguistic bridge between neighboring cultures that nearly destroyed each other while Jenny was learning to walk.
She favors vintage dresses and music, mostly Journey and Mumford & Sons. She's passionate about animals—horses and dogs in particular—and has an inexhaustible memory for detail. She mentors autistic children, and delights in photographing them in various moments of joy and play. Despite Jenny's exotic heritage, she fits right in with the suburban teenagers she counts among her closest friends. But there is one part of Jenny that makes her tragically different. Jenny is dying of AIDS.
When civil war erupted in Croatia, Jenny's uncle promised to take the golden-haired five-year-old to America. He told her parents she'd have a better life escaping the rape, murder and kidnapping routinely used as weapons of war by neighbors against neighbors and brothers against brothers. Jenny's parents tearfully let her go and formed a plan to reunite in America. But before Jenny and her uncle reached London, he sold her into prostitution and continued to do so for years, across continents and with dozens of other children. One of the men who raped Jenny gave her HIV.
When she friended me on Facebook, I learned that we have the same middle name: Alexandra. It's not a common name and I always imagined it linked me to my Russian heritage, to the elegant Czarinas of a faraway time and place. When we IM late at night, Jenny teaches me Slavic words, dropping them casually into our chat. I'm eager to learn. I roll the familiar "r's," pull my tongue back for the strange "dy"; I whisper them to my glowing laptop.
Jenny reads me her poetry. When I tell her she's a good writer, she bristles. When I insist she could be a doctor with all the knowledge she's gained living years with this illness, she says she'd start medical school if she thought she'd live to graduate.
"Don't worry about graduating," I say. I try to treat her like any uncertain 18-year-old, despite her dwindling T cells and fevers. We laugh, a lot. She's familiar to me, like the teenage version of myself.
Zdravo means "hello" in almost all Slavic languages, but it also means "healthy." A new word I've learned; one I practice. It's what I whisper over Jenny like a prayer each time we meet.
* Name changed to protect identity.
Resources for further reflection:
Organizations:
Books:
Image by Ana B. Used with permission. Sourced via Flickr. Post by Cameron Dezen Hammon.