Practicing Gratitude (Devotional)
Devotional / Produced by TOW Project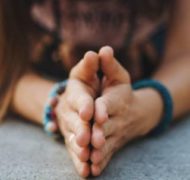 Gratitude is a spiritual practice that helps you notice and appreciate God's work in your day to day. In this plan you'll learn 4 different techniques for making gratitude a part of your daily life.
You can find this devotional on the YouVersion Bible App (download the app here), or get the Practicing Gratitude plan on Bible.com
Excerpt:
Gratitude is a spiritual practice of seeing and celebrating the good in the world around you. This is easier said than done.
Modern life often forces you to focus on what is bad – what needs to be fixed immediately, what crisis must be prevented, what new thing you need now to make your life better.
Learning to notice the good takes practice. Thankfully, every time you flex your gratitude muscle you get stronger. You get positive feedback – it feels good to be grateful. And you connect with God who is the source of all goodness.
You don't need to look for big miraculous things to be grateful for. Jesus showed that gratitude can begin with very little. On a day when it seemed like he and his friends wouldn't have enough to eat, Jesus looked up to heaven and thanked God for the food they had (Mark 6:37-44). When Jesus did this, the little they had turned into an abundance.
Practicing Gratitude on Bible.com
---
---