Practicing The Examen (Devotional)
Devotional / Produced by TOW Project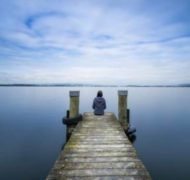 The 400-year-old spiritual discipline of the Examen can help you discern God's guidance in your daily life.
You can find this devotional on the YouVersion Bible App (download the app here), or get the Practicing The Examen plan on Bible.com
Excerpt:
The Examen is a spiritual discipline that helps you bring God into your day-to-day work. It's five steps – tune into God's presence, review your day, notice emotions, discern, and look ahead – force you to search for God's guidance in the smallest details of your life.
St. Ignatius, who developed the Examen over four centuries ago, believed as it says in Colossians 3:23 that all the work you do can be a spiritual discipline. When you work with the intention of glorifying God, all your activities are important.
Practice the Examen:
Tune into God's presence. God, be with me as I reflect on my day.
Review your day. What gave me joy today? What troubled me today?
Notice your emotions. What made me feel most strongly?
Discern. What are you asking me to notice, God?
Look ahead. What guidance do you have for me?
Prayer: God, thank you for being with me in the smallest moments of my daily work. May all my work serve you. Be with me this week as I reflect and discern.
Practicing The Examen on Bible.com
---
---