Money Basics for Kids (Devotional)
Devotional / Produced by TOW Project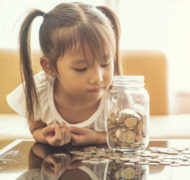 You want your kids to grow up with a biblical view of money. You also want them to have practical smarts about how money works. This plan gives you a place to start, with simple stories, basic principles, and an activity to try together each day.
You can find this devotional on the YouVersion Bible App (download the app here), or read the Money Basics for Kids devotional on Bible.com
Excerpt:
"There's something else you need to know about money. Something that's always true."
"What's that?" Alaysha asked.
Her mom made a grave face. Finally, she said, "Money is always limited."
Money isn't infinite. It represents real work. You are limited in the type of work you can do and the amount of time you can spend doing it. So your money is limited too. This is true for everyone. From the poorest person to the richest billionaire. No one has enough money to buy every single thing they want. They might try to make more and more money to keep up with their desires, but they'll still feel unfulfilled and sad.
Many places in the bible, including Ecclesiastes 5:10, say that there's never a perfect dollar amount that feels like enough. These verses encourage you to ask God for fulfillment, and put money in its place. Money is always limited. God is unlimited. If you see things that way, you can make wise money decisions that lead to more happiness.