Planning for the Future (Devotional)
Devotional / Produced by TOW Project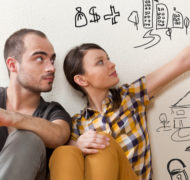 401K or YOLO? What's your strategy? Do you put off enjoyment today, or live like there's no tomorrow? And what's faith got to do with it? This plan lays out a biblical approach for planning with God.
You can find this devotional on the YouVersion Bible App (download the app here), or read the Planningfor the Future devotional on Bible.com
Excerpt:
Making plans for your future is a good and diligent thing to do, but the book of James warns you not to hold too tightly to those plans. Even the best laid plans can be subject to change. Having a good plan, even the best plan, does not mean it's going to happen that way. Instead, says James, you should leave space for God's changes, saying, "If it is the Lord's will, we will live and do this or that" (James 4:15).
James' words are a reminder that planning with God means continually reassessing, adapting, and adjusting your plans. In one sense, this is simply good business practice. Yet in a deeper sense, it is a spiritual matter. You need to be ready to change course if God leads you to different guidance in your work. God's guidance unfolds over time, so your plans must be adaptable. Ask in your time of prayer: "Is there anything I need to rethink about my plans today?"
Read Planning for the Future on Bible.com
---
---