When To Speak Up (Devotional)
Devotional / Produced by TOW Project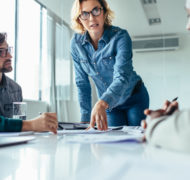 Something's wrong. When should you speak up? When should you hold your tongue? The biblical reflections in this reading plan help you decide whether it's the right time to use your voice at work.
You can find this devotional on the YouVersion Bible App (download the app here), or read the 3-day When to Speak Up devotional on Bible.com
Excerpt:
There are many problems at work that leave you asking whether it's right to speak up. Maybe a project isn't going well and you don't know if your boss has all the facts. Maybe your company is cutting corners in a way that will hurt it in the long run. Or maybe there's even unethical behavior going on around you. Any of these situations might leave you asking yourself: Should I speak up?
It's a question worth considering carefully. Speaking up at work can be risky business. You might jeopardize your job by pointing out unpleasant truths. On the other hand, speaking up might make life better for the people around you, deepen your relationships with others, and positively impact the problem. How do you know if it's your time to speak up? Do what Esther did. Start by thinking about the people affected and your responsibility to them.
Initially, Esther was hesitant to speak to the king about Haaman's plans to revenge himself on the Jews. Getting involved could have jeopardized Esther's position in the palace, and even her life. But Mordecai convinced Esther to use her voice by saying that Esther had the opportunity to speak for those who couldn't speak up themselves. Maybe this was Esther's destiny - the very reason she had risen to a position of power in the first place.