Facing Opposition At Work (Devotional)
Devotional / Produced by partner of TOW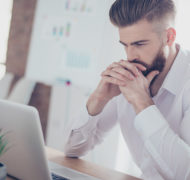 The book of Daniel teaches us how to face trials with the power of God and maintain strong Christian ethics. This plan contains spiritual insights that will help you succeed, even in a hostile work environment.
You can find this devotional on the YouVersion Bible App (download the app here), or read the Facing Opposition at Work devotional on Bible.com
Excerpt:
Studying the astrology and magic of the Babylonians must have been odious to Daniel. And yet he embraced the education, knowing that it would make him useful to his new organization. He needed to adopt a new mindset—an exilic mindset. He could expect discomfort, insecurity and risk, and trust God to protect his faith. As an exile, his new motto was, "Expect trials. Bless in response."
Christians in the modern workplace have much in common with Daniel. In fact, Jesus said in Acts 1:8 that he was sending us out as exiles into our places of work. We should expect trials because of our faith, and prepare to bless in response.
Read Facing Opposition at Work on Bible.com
This plan was written by Workmatters in partnership with The Theology of Work Project. Learn more about Workmatters at www.workmatters.org
---
---