When People Fail You At Work (Devotional)
Devotional / Produced by partner of TOW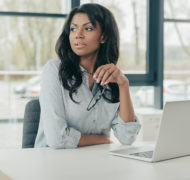 You've put in your all, only to see a project fail because of others. The book of Nehemiah offers a way to move forward when other people fail you.
You can find this devotional on the YouVersion Bible App (download the app here), or read the When People Fail You at Work devotional on Bible.com
Excerpt:
The biggest temptation when facing the failure of others at work is to create an "us vs. them" relationship with others and play the blame game. Marketing blames manufacturing. Operations blames R&D. Sales blames finance. The team blames the manager. The manager blames the team.
When Nehemiah heard about the shame and trouble his people in Jerusalem were experiencing, he mourned for days, praying to God about the failures of his people. He didn't blame. He didn't create an "us vs. them" relationship between the "good" exiled Jews of Babylon and the "bad" returned-exiled Jews of Jerusalem. He prayed: "… I now pray before you day and night for the people of Israel your servants, confessing the sins of the people of Israel, which we have sinned against you. Even I and my father's house have sinned."
Read When People Fail You at Work on Bible.com
This plan was written by Workmatters in partnership with The Theology of Work Project. Learn more about Workmatters at www.workmatters.org
---
---