Working through Failure (Devotional)
Devotional / Produced by TOW Project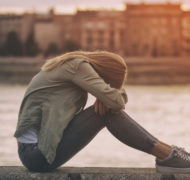 How can you face failure with a Biblical perspective and move forward when you've made mistakes? This five-day reading plan will guide you through lessons about failure from Philippians, Matthew, Ecclesiastes, and Jonah.
You can find this devotional on the YouVersion Bible App (download the app here), or read the Working through Failure devotional on Bible.com
Excerpt:
Many think the apostle Paul was successful. Because of his work, the gospel spread rapidly throughout the Roman Empire. Within 100 years of his death, strong churches existed everywhere he had been. But few in Paul's day, including Paul, would call him a success. Paul evidently was not much to look at or listen to. By his own admission, at best he was a so-so speaker. His work often got him in trouble, which led to beatings, imprisonment, and getting thrown out of town...
Where do we find strength to move forward? Paul freely acknowledged that such strength is not native to his soul. It came to him from Christ. "I can do all this through him who gives me strength" (Philippians 4:13, NIV). Hardships and failures taught the apostle to ask for strength. He learned to "fail forward" into the everlasting arms of God.
Read Working through Failure on Bible.com
---
---