Balance At Work (Devotional)
Devotional / Produced by partner of TOW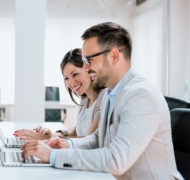 The story of Martha and Mary holds important lessons for men and women of all walks of life about God's design for balance.
You can find this devotional on the YouVersion Bible App (download the app here), or read the Balance At Work devotional on Bible.com
Excerpt:
Martha was distracted by the expectations of others, and she worked herself into an emotional state. She called Jesus "Lord," yet she had the audacity to tell him what she thought he needed to do to relieve her stress. Martha put her work and momentary stress above her relationship with Jesus. Jesus' words help us to see the negative effect this had on her attitude. He said, "you are worried and upset about many things." Rather than experiencing the satisfaction that comes from a job well done, Martha was worried and upset.
Like Martha, it is so easy for us to be distracted by the noise around us at work – the expectations of others, last minute demands and fires to put out. What can we do to work through the distractions that can keep us from choosing Jesus and choosing peace?
Read Balance At Work on Bible.com
This plan was written by Workmatters in partnership with The Theology of Work Project. Learn more about Workmatters at www.workmatters.org
---
---