For Those Caring for the Sick
Prayer / Produced by partner of TOW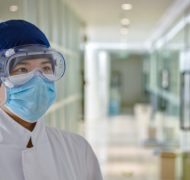 God, grant protection to the medical professionals throughout the world. Hold fast their anxious hearts and strengthen their weary bones. For they are the hands and feet of Jesus in the shadowlands. Shield them from harm. May they be emissaries of hope and healing to those stricken with illness. May they toil in light of a coming day when your kingdom comes and all is mended and made whole. Let it be soon.
---
---
Bookstore

A video series on how Christians in different industries view their work. Hosted by Sean McDonough.
Copyright
Image by H Shaw / Unsplash . Used with Permission.
These prayers are reprinted here from Made to Flourish with the permission of Luke Bobo.