Competition as Cooperation Is the Solution
Article / Produced by TOW Project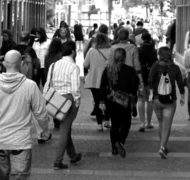 We have seen that competition is essential, yet it can also hurt people. The Bible recognizes both of these facts. It accepts—and in places commends—competition. Yet it decries the harm people do one another when they compete unlovingly, and commands us to love our neighbors as ourselves (Mark 12:31). How can we reconcile this seeming contradiction? By engaging in competition as a form of cooperation. Even in the act of competing with others, we must cooperate with them and with society in loving regard for their needs and God's purposes. In this section we outline how participating in economic competition can be a form of cooperation, and can therefore be a way of loving our neighbors.
We start by recognizing that economics is not only a result of our finitude; it is a result of our relationality. As the Theology of Work Project commentary on Genesis asserts, we are made as relational creatures in the image of our relational God. We are interdependent, cooperative creatures in virtually every respect, including in the world of work. "Economics," considered from one vantage point, is simply the social and cultural aspect – the relational and cooperative aspect – of work.
Our diversity of needs, preferences and circumstances creates opportunities for mutual love through economic exchange. The things we make or services we perform offer people choices. One person may prefer to love and glorify God and love their neighbor by preparing food for others, and in return receive the means to listen to music on a mobile device. Another person may prefer to love and glorify God and love their neighbor by maintaining computer servers that deliver music to mobile devices, and in turn receive prepared food. Thus, Jane the restaurant worker makes money preparing food and spends it downloading a song from Mary's company, while Mary the IT professional makes money maintaining servers and spends it ordering lunch at Jane's restaurant. In other words, we compete not only because we want to make the sale, but also because we want to provide something good for the customer.
The relational aspect of work is the deeper reason it was "not good" (Genesis 2:18) for Adam to be alone. Eve was needed not simply for procreation, but as Adam's "helper," his cooperative partner in the work of cultivating and keeping the world. A single person cannot cooperate, and was thus unable to manifest the glory of the triune God, whose persons work in eternal cooperation. As John Bolt puts it:
"It is not good that the man should be alone." For us to understand this properly, we must set aside for the moment modern notions of companionate marriage. The point is not that Adam was lonely; rather, there is something humanly incomplete about him. If humanity is to image God as the Creator intended, "man" needs the complement of "woman." Here we have, in nuce, the foundation of all social order. [1]
Many people together – the human community – are able to do the work of cultivating and keeping creation, thus manifesting the relational love that is God.
This is why cooperation is at the heart of God's will for our work. It is noteworthy that alongside competition, cooperation is a consistent theme in the Theology of Work Project commentaries. A very large number of the modern-day applications suggested by the commentaries are aimed at cultivating better cooperation in workplaces. This is a concern that is supported extensively in Scripture (Psalm 133:1; Proverbs 26:21; Ecclesiastes 4:9-12; Philippians 2:1-5; 2 Timothy 2:24).