The Effects of a Fallen World
Article / Produced by TOW Project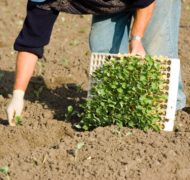 The rebellion of the first humans (Genesis 3) had a catastrophic effect on all of creation—not just their relationship with God, but also their capacity to draw provision and create wealth from the land. The Fall demonstrates that when we break our relationship with God, we create economic problems, along with all sorts of other evil. Because God is the source of blessing, no longer being close to him undermines humanity's ability to find provision and wealth.
As a result of the Fall, people began to live under both a curse and a blessing. This had significant implications for work. The land—and therefore its productivity and fruitfulness—is deeply impaired by the breaking of relationship, prompting God to say to Adam:
Cursed is the ground because of you; in toil you shall eat of it all the days of your life; thorns and thistles it shall bring forth for you; and you shall eat the plants of the field. By the sweat of your face you shall eat bread until you return to the ground… (Genesis 3:17b-19a)
We may even become unable to draw basic provision from the materials of creation, whether by our own fault, or by the fault of others, or by no one's fault in particular. Drug abuse, poor work habits, lack of access to education, ill health, concentration of resources in the hands of elites, ethnic discrimination and a myriad of other causes may prevent individuals, families, communities, and entire societies from co-creation with God of the provision they need. In the fallen world we inhabit, God's original intentions for provision and wealth are disrupted in several notable ways.