The Tentmaker Priscilla (Acts 18:2)
Article / Produced by TOW Project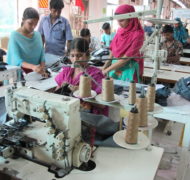 In Corinth Paul needed a means to support himself, and fortunately, he had a trade: he made leather tents for the Roman government and private parties who ordered them. Once in Corinth, he collaborated with a couple who also made leather tents: Priscilla and Aquila. (The Roman government required leather tents for housing its military on bases all over the empire. A canvas tent would not do, especially in northern climates. Furthermore, Paul could carry with him the few tools for leatherwork, but would not have been able to carry necessary equipment for working with canvas. Canvas was usually used for boat sails.)
While scholars believe that Priscilla was a Gentile (and from the Roman aristocracy), she had married Aquila, a Jew from the Turkish province of Pontus. They lived in Rome and were part of the folks who worked with the apostle Peter in his evangelism there. But the Roman emperor (around 51-52 A.D.) ordered that all Jews be expelled from Rome. Corinth was the nearest major city outside Italy, so as refugees, they had settled there. And there they connected with the apostle Paul.
This tentmaking couple became so valuable to the apostle Paul that when he left Corinth to begin missionary work in Ephesus, he took Priscilla and Aquila with him. This couple is mentioned six times in the New Testament, and in all but one case, Priscilla's name is given first. This wasn't simply a matter of courtesy in the first century; it indicated her primacy in their work together. Eventually, when the exile of Jews from Rome was lifted, they returned to their home in the capital city and once again became active in starting new churches there.
Priscilla is often thought of as a tentmaker, but clearly she was many other things in her lifetime too: a businesswoman, a refugee, a traveling evangelist, and a church planter. While we often hear stories about complex men in the Bible, in Priscilla we see that women too are multitalented, multifaceted, and capable of working in a variety of different environments.
---
---