Suffering With Christ in Order to Be Glorified With Christ (Romans 8:15–17)
Bible Commentary / Produced by TOW Project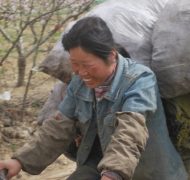 Paul contrasts life in the Spirit with life under the Jewish law. Paul says believers have received a "spirit of adoption" as children of God, rather than "a spirit of slavery to fall back into fear" (Rom. 8:15). Every­one who "belongs to" Christ (Rom. 8:9–10) is now an adopted child of God. In contrast, those under the law live in slavery to the power of sin and also in fear—presumably fear of the law's threats of punishment for disobedience. Believers are free of this fear, since there is now "no condemnation for those who are in Christ Jesus" (Rom. 8:1). When we live faithfully in Christ, we do not face the law's threats of punishment, even when we get things wrong in our daily life and work. Hardships and failures may still mar our work, but God's response is not condemnation but redemption. God will bring something worthwhile out of our faithful work, no matter how bad it seems at present.
At least two aspects of these verses inform our approach to work or life in our workplaces. First, as adopted children of God, we are never alone in our work. No matter what our dissatisfaction or frustrations with the people we work among, or the work, or even a lack of support for the work from our families, the Spirit of God in Christ abides with us. God is always looking for an opportunity to redeem our suffering and turn it into something good and satisfying in our lives. As we observed earlier in connection with Romans 5, faithfully enduring hardship and suffering in our work can lead to the formation of our character and ground our hope for the future. (See "Grace Transforms Suffering in Our Life in Christ," above in Romans 5:1–11.)
Second, at one time or another, most people encounter failures, frustrations, and hardships in their work. Our work places obligations on us that we wouldn't otherwise have, even obligations as simple as showing up on time every day. Faithfully engaging these challenges can actually make the work more rewarding and satisfying. Over time these experiences give us greater confidence in God's redeeming presence and greater experience of his motivating and energizing Spirit.
In some situations you may be welcomed and promoted for bring­ing reconciliation and justice to your place of work. In other situations you may be resisted, threatened, punished, or terminated. For example, bad relationships are an unfortunate feature of many workplaces. One department may habitually sabotage another department's accomplish­ments. Strife between managers and workers may have become insti­tutionalized. People may be terrorized by an office bully, an academic clique, a shop floor gang, a racial dividing line, or an abusive boss. If you bring reconciliation in situations like these, productivity may increase, turnover may be reduced, morale may soar, customer service may re­bound, and you may be praised or promoted. On the other hand, the bul­lies, cliques, gangs, racial divides, and abusive bosses are almost certain to oppose you.
---
---