Israel's Responsibility for its Predicament (Ezekiel 18)
Bible Commentary / Produced by TOW Project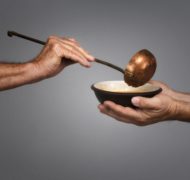 The exiled Jews' question, "What did we do to deserve this?" comes out of the mistaken belief that they were being punished for their ancestors' actions rather than their own. We see this in the false proverb they quote: "The parents have eaten sour grapes, and the children's teeth are set on edge" (Ezek. 18:2). God rejects this accusation. The issue at stake is the exiles' refusal to take responsibility for their predicament, blaming it on the sins of previous generations.[1] God makes it clear, however, that each individual will be evaluated according to his own actions, whether righteous or wicked. The metaphor involving a righteous man (Ezek. 18:5-9), his sinful son (Ezek. 18:10-13), and his righteous grandson (Ezek. 18:14-17) illustrates that people are not held accountable for the morality of their ancestors. God holds each individual "soul" accountable.[2] Yet scholars are right to note that Ezekiel is still communal in focus.[3]
Righteousness is required individual-by-individual, but God's restoration will not occur until the entire nation of individuals adopts righteous living. In this way, God required righteous living and accountability from the exiles as a whole, independent of previous generations.
Ezekiel 18:5-9 notes a range of cultic and moral actions, both righteous and wicked. These actions become the principles by which a person is said to "live" or "die." Four of these actions are related to work: restoring a debtor's pledge, providing for the poor, not charging excessive interest, and working justly. Failure to uphold just and righteous standards — or even worse, shedding the blood of another person indiscriminately — will incur the "death penalty" (Ezek. 18:13).