Ethics at Work (Bible Study Book)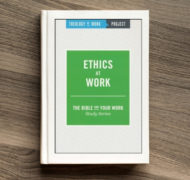 Written for those who want to be learn how to be more effective workers and are willing to trust God, this study on work ethic is about knowing and doing what is good or right at work. For the Christian, this means applying the Bible and other resources of the Christian faith to help decide and do what is ethical or moral at work.
Designed for 30-minute lunch breaks, the study contains Scripture references, thought-provoking questions, and prayers to help you apply biblical principles to your work life.