Exodus (Bible Study Book)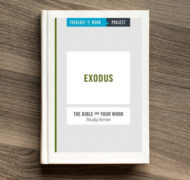 Part of The Bible and Your Work Study Series, this study of Exodus takes a look at the delivery of Egyptians from slavery in Egypt, emphasizing that God did not deliver Israel from work. He set Israel free for work. Designed for 30-minute lunch breaks, the study contains Scripture references, thought-provoking questions, and prayers to help you apply biblical principles to your work life.
Copyright
Author: Theology of Work Project
Theology of Work Project Online Materials by Theology of Work Project, Inc. is licensed under a Creative Commons Attribution-NonCommercial 4.0 International License. Based on a work at www.theologyofwork.org
You are free to share (to copy, distribute and transmit the work), and remix (to adapt the work) for non-commercial use only, under the condition that you must attribute the work to the Theology of Work Project, Inc., but not in any way that suggests that it endorses you or your use of the work.
© 2014 by the Theology of Work Project, Inc.
Unless otherwise noted, the Scripture quotations contained herein are from the New Revised Standard Version Bible, Copyright © 1989, Division of Christian Education of the National Council of the Churches of Christ in the U.S.A., and are used by permission. All rights reserved.