In Memory of Clint Le Bruyns
News and Events / Produced by TOW Project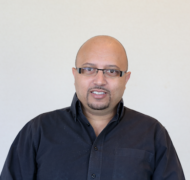 Dr. Clint Le Bruyns, our beloved colleague on the Theology of Work Project Editorial Board died on January 7, 2021 from COVID-19. His sudden loss brings us unimagined sorrow and grief. Our hearts and prayers go out to his family and the many people around the world who loved him.
In the TOW Project, Clint was a passionate voice for people marginalized or oppressed by the ways of the world with respect to work. Our research and writing benefited greatly from his voice, his expertise, his wisdom, and his passion. Yet he made his mark with gentleness, kindness, compassion, humor, and love. It's been said that he could cross great divides and genuinely engage, respect and love people of every sort without hypocrisy, and without losing an iota of his commitment to the cause of justice to which God called him. We experienced his fierce gentleness as a gift from God. We loved him. We miss him.
Clint Le Bruyns was a Senior Lecturer in Theology and Development in the School of Religion and Theology at the University of KwaZulu-Natal, South Africa. His major areas of expertise were in public theology, economic ethics, theology of work, ethical leadership, and the role of the church in development discourse and practice. He was also an adjunct-professor in the School of Leadership and Development at Eastern University, USA. In addition to the publication of many popular and scholarly articles, he co-edited two books: The Humanization of Globalization (Germany, 2008) and Ragbag Theologies (South Africa, 2009). He was an active member within various professional theological and ethics societies, as well as on the editorial board of the International Journal of Public Theology and Soma: An International Journal of Theological Discourses and Counter-Discourses. He served with various local, national and global institutions and organizations in providing strategic consultancy and thought leadership.
Into your hands, O merciful Savior, we commend
your servant Clint. Acknowledge, we humbly beseech you, a sheep of
your own fold, a lamb of your own flock, a sinner of your
own redeeming. Receive him into the arms of your mercy,
into the blessed rest of everlasting peace, and into the
glorious company of the saints in light. Amen.
- Book of Common Prayer
A web page in memory of Clint has been created on Whatsapp at https://chat.whatsapp.com/CZFFlRXsw7B8cd2zfyj4oO, where you can view others' words of appreciation and add your own.