Quick Introduction to Theology of Work Project Website Resources (Video)
Video / Produced by TOW Project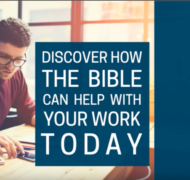 Your matters to God. What you do in your work matters to God. How you do what you do in your work matters to God. But you have questions. Like, should I leave my job to pursue my calling? What if I have a bad boss? Is it Christian to be ambitious? Does God even care if I'm bored at work? Among others. The Bible can help. There are hundreds of passages in the Bible that connect the Bible to your daily work, if you know how to look for them.
If you're just getting started, check out our page for Christians who work. You'll see your questions reflected in other Christians' stories. Download a devotional reading plan on a workplace topic. Over 1 million Christians have completed one of our multi-day devotions. Find them on our site or on the YouVersion app on your phone. Want to go deeper? Bring workplace themes into your small group with one of our discussion guides. Read up on key workplace topics. Or explore one of the nearly 900 Bible passages that apply to ordinary work. You'll learn how the Bible applies to real workplace situations. You'll even find video case studies about how Christians apply faith to their work. You can search the site by topic, verse, or anything that's on your mind. You may be surprised by what the Bible has to say.
We also have special resources for pastors looking to equip your congregation for faith in the workplace. Or professors looking to integrate workplace themes into the seminary curriculum.
Check out our resources, and discover how the Bible can help with your work today.