Theology of Work Project Receives 2020 Northeast Marketplace Ministry Award
News and Events / External content not produced by TOW Project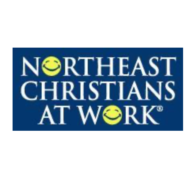 Northeast Christians at Work recognized five organizations, including Theology of Work Project, with the 2020 Northeast Marketplace Ministry Award. The award is given to these organizations for their efforts to inspire, encourage, and equip Christ-followers in the workplace and to lead by example in their daily operations. In alphabetical order, they are:
Newington, Connecticut: Corporate Chaplaincy Services provides licensed and ordained pastors and chaplains to various workplaces. The organization was founded by Pastor Joel L. Rissinger, who describes the chaplains as "spiritual cheerleaders for businesses." During the coronavirus pandemic, Corporate Chaplaincy Services adapted to the sobering new work environment and continued to minister to souls in profound ways.
Agawam, Massachusetts: Media 14:36 has a mission to share the Gospel through the media, from publishing Christ-exalting hard copy and e-books to award-winning, family-friendly, God honoring movies. One such movie, Heaven: The Adventure Begins, premiered in Connecticut on December 11 and is slated for rollout at movie theaters nationwide in January of 2021. In God's amazing timing, taping of the movie in Hollywood concluded just before the Covid-19 shutdowns in March.
New York City: originally founded in New Canaan, Connecticut, the New Canaan Society now has local chapters across the northeast and nationwide. Groups of men gather together to encourage each other in friendship and faith, and support each other to be better husbands, fathers, men in the marketplace and community. During COVID-19, the New Canaan Society effectively transitioned from in-person meetings to online meetings.
Bedford, New Hampshire: the New Hampshire Alliance was founded in 1991 to facilitate relationship connections across the state, provide information to all the regions in the state, share inspiring stories, and activate the Body of Christ in unity. In 2020, the organization made deliberate steps forward in pursuing its long-term goal of reaching workplaces across New Hampshire for Christ.
Cambridge, Massachusetts: The Theology of Work Project is the deepest, largest, and most trusted source of biblical, theological, and pastoral material related to work. Most of their materials are available free of charge on their website. Their cornerstone resource, the Theology of Work Bible Commentary, is an exhaustive commentary covering what the entire Bible says about work. It is in use by over 60 partner organizations, dozens of seminaries, and hundreds of churches.
2020 marks the 22nd consecutive year of the Northeast Marketplace Ministry Awards. Congratulations to all organizations.