What is Gleaning?
Article / Produced by partner of TOW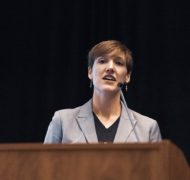 by Aimee Minnich
Brittany Underwood built Akola from nothing — each item of jewelry handmade in Uganda and distributed through their warehouse in the States where most jobs are held by women recently released from prison. It's an unlikely story for a company whose jewelry is sold for $300+ in Neiman Marcus and has been featured in Vogue and People StyleWatch. With 70% margins and contracts with other major retailers she's poised for growth and needs both a line of credit and an equity partner. A top VC firm in her industry was offering favorable terms and promising to help make the company even more profitable. Earlier this year, she sat across the table from them and turned them down. Why? Why would someone do that?
The difference between 70% and 80% profit margins the VC firm wanted would mean eliminating jobs that our young entrepreneur worked hard to create for women coming out of prison. The impact of those jobs for the women and their families was worth more than an easy equity raise and more revenue.
Brittany's company Akola is modern example of gleaning — when an investor or business owner leaves some monetary gain on the table to provide access for a group that society has largely left behind. Read the rest on the FDI site.