Masterpieces Are Not for the Closet (Take-Home Activity for Parents and Kids)
Small Group Study / Produced by partner of TOW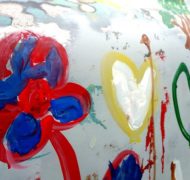 This lesson is part of God's Story of Work for Kids, a 12-week curriculum that teaches children to see work through God's perspective.
This Week's Focus: God has designed each person uniquely
This week we learned that just as the eye and nose each have a unique design and function, we each have unique and important parts to play. God has designed each person with a purpose. When we try to be someone else, we miss out on the joy of fully seeing our unique design and how it fits into God's plan. When we know God and live for him, using all our gifts and skills, we find great joy and purpose. Sometimes it's hard to see ourselves, though. Kids need encouragement from their loved ones about who they are and what they bring to the family.
Do This Week's Workout: Family Inventory
The Weekly Workout is a great way you can work out the week's focus with your child. Invite the whole family into this time. God is at work.
Write each person's name on the top of a blank sheet of paper, one for every member of your family. If everyone in your family can write, pass the papers around. Each person writes down the unique gifts, personality traits and abilities they see in each person. Or if your children are too young to write, brainstorm out loud about each person in your family:
What do you think this person is good at? (think about talents as well as natural abilities like problem solving, listening to others, fixing things, etc.)
What do you enjoy most about this person's personality?
What does this person add to the family dynamic? (for example, silliness, laughter, preparation, safety, etc.)
Talk about it: Go around the family circle and share the answers to these questions:
What are you surprised to hear about yourself from your family?
Did hearing this feedback change the way you think about yourself?
Consider throwing a party to celebrate how God designed your family.
---
---