Celebrating the Life and Legacy of Howard E. Butt, Jr.
Blog / Produced by The High Calling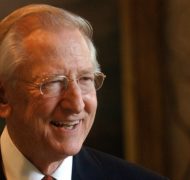 Howard E. Butt, Jr., whose vision inspired millions to consider the high calling of their daily work, died on Sunday, September 11, 2016 at his home in San Antonio, Texas from complications from Parkinson's disease. Butt was influential in starting many ministries to deepen the faith of laity, including the radio broadcasts that became TheHighCalling.org.
We appreciate The H. E. Butt Foundation allowing us to reprint the obituary below.
As a bridge builder between the secular and religious worlds, Butt is perhaps best remembered for convening groups from all walks of life for intellectual discussion and inspired reflection in the Texas Hill Country, often at the Laity Lodge Retreat Center.
Butt pioneered terms and concepts that became hallmarks of mainstream Christianity such as work/life balance, small groups and servant leadership. He also courageously modeled transparency, recognizing the benefit to others in acknowledging that everyone has struggles, at a time when most leaders feared showing any weakness.
A champion of the role of the laity, Butt influenced pastors and professionals alike. Earl Palmer, former Senior Pastor of University Presbyterian Church in Seattle, said "Many pastors would think that a great Christian lay person is a person that comes to my church all the time, that doesn't say 'no' too much to my vision, supports us financially, and cares a lot about world missions. That's not where Howard was. From the very beginning he was trying to think about how to do your work Christianly."
Butt wrote several books on faith and leadership, beginning with The Velvet-Covered Brick: Christian Leadership in an Age of Rebellion, which introduced the concept of servant leadership to mainstream business audiences. Teaching the biblical concepts of submission and authority, he inspired future generations to have a more eternal perspective in their careers and personal lives.
Born in Kerrville, Texas, on Sept. 8, 1927, Butt grew up in the grocery business founded by his grandmother, Florence. From an early age, Butt devoted his life to his faith, making a commitment to Christ as a child. He attended Baylor University in Waco, Texas, graduating in 1947 with a degree in business, and soon afterward married his longtime sweetheart, Barbara Dan Gerber. While a student at Baylor, Butt is credited with leading the youth revival movement of the 1940s and '50s that spread across college campuses in cities throughout the country.
In his early years as a businessman and lay preacher, Butt served as an associate evangelist with the Billy Graham Evangelistic Association, even being invited to address one of the first National Prayer Breakfasts hosted by President Dwight D. Eisenhower in 1956. Graham credited Butt with pioneering workplace ministry and told him, "Only when we get to heaven will we see how many lives you have touched through your ministry of evangelism and your tremendous work through Laity Lodge."
As well as serving alongside Graham with his evangelistic association, Butt was a founding board member of Christianity Today magazine, where he and Graham worked together to encourage lay people in their daily ministry. Butt later organized the North American Congress of the Laity, whose honorary chair was President Gerald Ford.
His parents, Howard E. Butt, Sr., and Mary Elizabeth Holdsworth Butt, established the H. E. Butt Foundation in 1933, one of the earliest private foundations in Texas. It served as a vehicle for philanthropic contributions to south Texas communities and in 1954 acquired 1,900 acres in the rural Texas Hill Country to provide free outdoor camping facilities for underprivileged children. Butt, Jr., would later greatly expand his parents' vision to serving more than 20,000 campers each year – nearly a million to date – including churches and other groups, as well as establishing the Laity Lodge Retreat Center.
While working at H-E-B, Butt continued to pursue spiritual endeavors, creating with Billy Graham the Laymen's Leadership Institute, which hosted faith-based programs for business professionals. In recognition of his efforts on behalf of workers, Butt was appointed by President John F. Kennedy to the first Committee on Equal Employment Opportunity.
In juggling his roles with the business, family and foundation, Butt developed a growing concern for the overlooked role of the church laity – those not serving as ordained ministers, but active members of their faith communities – as well as the dignity of work itself. "God blesses work," Butt wrote. "The excellence of the work Jesus Christ did in the carpenter shop at Nazareth was a part of His revelation of the character of God." Feeling called to step away from day-to-day leadership of the grocery business in the late 60s, Butt transitioned to a board role as Vice Chair, and dedicated his life full-time to ministry.
With his acceptance of the presidency of the H. E. Butt Foundation in 1982, Butt expanded its charitable endeavors and role in integrating business and theology. He was inspired by his mother's vision for the foundation to "house the great theological thinkers of our day – which may in time broaden and deepen the spiritual life of many a church," and to "promote the highest aspirations known to men – ideas in education as well as in religion and in public health, both physical and mental."
While increasing the number of children reached through the foundation's free camping programs, Butt also added youth and family camps to the Laity Lodge Retreat Center, along with the Laity Lodge Leadership Forums, which brought together internationally renowned speakers such as celebrated author Madeleine L'Engle and professors and theologians Henri Nouwen, J.I. Packer, and N.T. Wright. It was here that the "small group" model was birthed, transforming churches across the nation as they embraced the concept later described by Keith Miller in the best-selling book The Taste of New Wine, written largely at Laity Lodge.
Of the thousands of business professionals influenced by Butt, many recall his hospitality as a hallmark of their time at Laity Lodge – his ability to make anyone feel welcome and safe, no matter their station in life nor their religious beliefs. He challenged them to use their gifts – which he believed came from God – to the utmost, saying that work had holy value, but that it also had to be balanced with personal growth and family commitments.
In addition to The Velvet-Covered Brick, he wrote several books, including At the Edge of Hope: Christian Laity in Paradox; Renewing America's Soul; Renewing the Spirit, Healing the Soul; and Who Can You Trust? Overcoming Betrayal and Fear.
Butt also contributed regularly to "Laity Connections," the Foundation's quarterly newsletter, writing in the February 2002 issue: "Faith, the 'evidence of things unseen,' assures us that as we give our job, however big or small, our best for His glory, God uses both the work and us."
In 2000, Butt began the radio broadcast "The High Calling of Our Daily Work," which emphasized the inherent value of good, honest work. The 60-second spots were carried on 3,000 radio stations in all 50 states and reached millions of people. The radio spots created a platform for The High Calling website featuring some of the nation's top writers, thinkers, and business icons.
A memorial service celebrating the life and witness of Howard E. Butt, Jr., will be held at 10 a.m. on Saturday, Sept. 17, 2016, at Trinity Baptist Church, 319 E. Mulberry Ave., San Antonio, Texas 78212. Howard E. Butt, Jr., is survived by his wife, Barbara Dan Butt; his siblings: Eleanor Butt Crook and Charles Butt; three children: Howard III (Pamela), Stephen (Susan), and Deborah Dan Rogers (David); and eight grandchildren: Howard IV, Hillary, and Jeffery Butt; Sarah and Shelby Butt; Katherine, Alexandra, and Jackson Rogers; and one great-granddaughter Charley Butt.