About The High Calling
Blog / Produced by The High Calling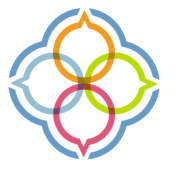 The High Calling is a production of the Theology of Work Project in partnership with The H. E. Butt Foundation. Here you'll discover a range of stories that help you think deeply about how your faith relates to your work and the culture you live in.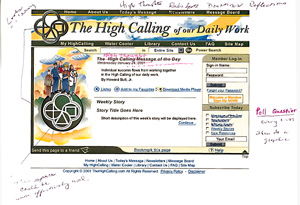 The original site TheHighCalling.org grew out of Howard Butt's radio encouragement, The High Calling of Our Daily Work®. These sixty-second encouragements to people in their daily work were received enthusiastically when they first aired in 2000 and soon a place was wanted where people could go deeper than the one-minute radio message afforded. Educating the laity about their role in the church had been an emphasis of Howard Butt for more than sixty years. The H.E. Butt Foundation decided to take advantage of the breadth of contacts and the immediacy of the web to communicate his vision more completely.
Each week beginning in January 2002, one audio message from Howard was posted. Along with the audio messages, a Biblical reflection and a personal reflection based on the theme of the audio message went live. HighCallingBlogs.com launched in 2007 as a companion site to TheHighCalling.org, with the aim of developing a blog network focused on relationships and Christian community. Beginning with the aim of reaching fifty bloggers, it eventually included over a thousand! In 2010 the two sites were merged.
On January 1, 2016, The High Calling became a joint publication of the Theology of Work Project and The H. E. Butt Foundation. TOW Project editorial staff now oversee the operations of The High Calling, including managing its archives and ongoing publication, email newsletters, and Facebook and Twitter platforms.
The site's mission was described at one point as follows: "The High Calling is a safe place to ask difficult questions. Our readers have differing opinions about matters of faith and doubt. We believe in the power of open dialogue and aim to be a safe place to raise difficult issues. We simply ask that each person be respectful of others, rooted and grounded in love." Another mission statement said, "Our goal will continue to be building community around the high calling of our daily work. We are part of the Church at work in the lives of Christians on a daily basis. Together we share our stories, our struggles, and our hopes, encouraging one another along the way."
That spirit characterizes many of the reflections and blog posts you'll find on this site. Welcome!
For more: