I Do: Struggle
Blog / Produced by The High Calling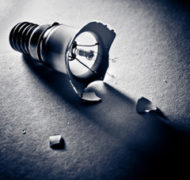 I'm not a child of divorce, but I have a half-brother and half-sister who are. Both of my parents had been previously married—my mother once and my father twice. The odds were not good for a successful marriage. My parents came close to separating several times but somehow hung in there.
What it took me years to understand was how their previous marriages influenced everything, including the two children they had together. Divorce can create wariness about marriage that borders on pessimism, and often the expectation that this one, too, may be temporary.
Last summer, writer Tony Woodlief posted "When Arms Fail" at Image Journal, describing the pain of the decision he and his wife had made to divorce and what it was likely to mean for their four children.
I had an immediate reaction: No! Don't! The cost is huge! For all of us!
The very next day, Susan Gregory Thomas published "The Divorce Generation" in The Wall Street Journal, describing how she and her husband came to a decision to divorce. They have two children. She had vowed she would never do what her parents had done, that she would be different. She knew she'd help stack the deck against her marriage by living with her husband six years before they were married. But she would be different. She would beat the statistics.
She didn't.
Stop! No one does divorce well. No one.
We know divorce happens. It happens to Christians and non-Christians alike. It happens for all kinds of reasons. But it shouldn't. Some reasons have a Biblical basis – adultery and abandonment. Many don't.
A few years ago, three couples I knew well at the church we attended were "suddenly" getting a divorce. The shock in all three cases was that virtually no one in the church had had a clue what was happening. Why don't we know? Why don't we pay more attention?
Woodlief had a follow-up at Image Journal in December. The divorce is final. He described Christmas with his children. Sadness saturates the story. Christmas felt like some pale imitation to that family.
I want to tell Tony Woodlief that the cost is going to be worse than he already suspects.
I want to tell Susan Gregory Thomas that there is always hope. Always.
Too often, we don't see the signs of problems in others' marriages. Or if we do, we keep our thoughts and opinions to ourselves. We could be minding someone else's business or we fear the response will be anger or the end of a friendship. And it's probably messy and who needs more mess in their lives?
So we say nothing.
The church and its pastors have a different problem. They can't disclose what happens in private counseling sessions or discussions. Confidentiality and potential liability present serious issues. So the silence continues, aided and abetted by the false belief that "real" Christians don't have marriage problems. We all wear our smiley faces on Sunday, masking pain, hurt, anger and brokenness.
What can I say to Tony and Susan?
Tony, turn back from the gray sadness.
Susan, hold out your hand to your husband.
Restoration can happen.
Marriage is not about your personal happiness. That's a myth. Marriage never is about happiness.
It is about a commitment, a commitment you make to each other and to God, so that you as one flesh can accomplish the things he's set before you. And you have to fight to keep that commitment. You have to fight for your marriage, and you have to fight every day.
Marriage doesn't get easier over time, but it gets less hard. Every married couple I know has had problems and considered divorce or separation or "freedom." You will not solve your problems with divorce; you will likely make them worse for yourself and others. We are all vulnerable; no one has the market cornered on perfect, lasting marriages. We all struggle.
Keep struggling with us.
* * * * *
The "I Do" Collection
Image by phozographer. Used with permission.