Online Retreat?
Blog / Produced by The High Calling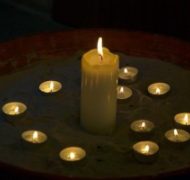 I've been hearing variations of the same conversation for years now. And it always starts the same way. Someone refers to facebook or a blog network or some other online social experience as a "community". Immediately, someone from a church or a club or some other traditional social group becomes agitated and defensive for some reason. That person responds in a tone of righteous indignation.
"That's not a community! You can't have community unless you're relating to people in person."
If you're lucky, that's all you will hear. Occasionally though, this exchange will be followed by a lengthy diatribe on the nature of community, how essential it is to humanity, and how it definitely cannot happen online. <Sigh> I wish people would stop saying that. We who have found meaningful and even life-changing relationships online are only asking you to share the word "community." Lots of words have shared meanings. I love my wife and I love cheeseburgers. The word love is flexible enough to hold both meanings. When we claim to have experienced online community, we aren't claiming it is the same thing as more traditional communities. We're only asking that you share your word so we can express something with it too. And sharing is a good thing, right?
So now I'm going to ask you to share another word.
That word is "retreat." Many of us have been going to retreats all of our lives. I grew up in evangelical churches. Our retreats were high energy affairs with workshops and planned recreation and intense religious services, where we were encouraged to make life-changing decisions. You generally went home exhausted but also feeling a renewed spiritual commitment. Some people take solitary retreats, getting away to spend time alone in prayer and meditation. I've done that once or twice and found it to be a powerful experience. Lately I've been enjoying more contemplative, monasatic-type retreats with more silence and less action. We've been having these at our church for the last few years. These gentler retreats fit my personality better. Fortunately, the word retreat is flexible enough to hold many meanings.
A Big question: What would an online retreat look like?
It's kind of hard to imagine, isn't it? I mean, how would you have an online retreat? Apart from solitary retreats, most retreats include intense, intimate encounters with other people. Friendships are forged in retreat settings. Within hours you can feel like someone you just met is one of your best friends.
Is such a thing possible in an online setting?
How would it work?
What kinds of technology would be involved?
I'm on a quest, and I need your help.
For the next couple of weeks, I'm searching for models of online retreats. Have you ever experienced an online retreat? Do you know of anyone who is using technology in creative ways to make that sort of thing possible? Leave your suggestions, thoughts, and links in the comments. I'll follow every lead. I'll track down every resource. I want to know if the word "retreat" is big enough and flexible enough to include something we might experience together online.