Toward a Model of an Online Retreat
Blog / Produced by The High Calling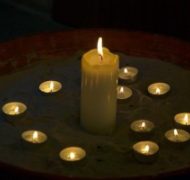 Last week I brought up the subject of an online retreat. I confessed that I had no idea if such a thing was possible or even desirable. I really appreciated all of your comments. I put everyone's thoughts into a spreadsheet and tried to compile the ideas into a summary. I also spent some time following up links to technical sources that might be useful. Thanks for everyone's help. So let's get started thinking more about this.
Retreats: a definition:
The word retreat always contains the idea of withdrawing, of leaving one place for another. In a battle situation, an army retreats from the enemy and to a designated place of safety. A spiritual retreat contains the same ideas. We retreat from our lives, which are often not conducive to spiritual contemplation and growth. We retreat to a safe place, where we may set aside distractions and enter into a time of learning and/or listening. This would be my definition of an online retreat: Somehow, using a combination of online activities, personal exercises, and virtual group interaction, we find a way to retreat from our lives to dedicate ourselves to learning and reflection.
Retreats: learning or experiencing?
In reading your comments and talking to people, there seems to be two major ideas about what happens at retreats. Many retreats are centered around a specific and planned learning experience, with an expert who delivers lectures. Other retreats may also have experts who teach, but the retreat is focused on helping people enter into a time of personal reflection and contemplation. The truth is, all retreats have both of these elements. If we go forward to create some kind of online retreat experience, I would like to have both kinds of retreats. Some might be more didactic in nature, while others would be more experiential.
Some asked what the goals of these retreats would be.
Every retreat would contain the same basic goal: to provide people a chance to retreat from their busy lives and enter into a time of learning and contemplation. Some retreats might have more overt educational goals. Other retreats might be more contemplative, so the goal would be equipping and enabling the retreatants to center themselves in prayer and silence to listen for the direction of the Holy Spirit.
Toward our first retreat model:
Without committing to details, here are some things that I would like to see incorporated into our retreat model. Please, comment again if I've missed something important to you or if you have new ideas. This is VERY much in process.
The online retreat would be intentional. A person would have to sign up for the retreat and upload some information, which might include an optional photo or perhaps a photo of their personal retreat setting.
A part of the retreat would be private and done on your own time. The retreatant would go to a website and interact with what was there. That site would contain video and/or audio, art, readings, and probably assignments.
Those participating in the retreat would be able to leave comments, perhaps even video or audio comments, about their experience with the assignments. That feedback would be immediately available to those who followed. People could come back and see how the rest of the group is responding. You could reply to another person's comments. This conversation would change the way we interacted with the material, much the way personal interactions change the way we receive information at physical retreats.
There might be a video presentation that is live. Perhaps a speaker would talk on a live video feed. That would mean that everyone would have to make time to be on their computer at the same time. While the speaker is talking, there might be ways for people to ask questions and leave comments.
An informal chat room should be made available exclusively for those on the retreat. It would be available all the time. People could meet there to chat one-on-one, or groups could drop in for informal conversations.
A physical meeting at the end, if possible. In some cases there could be a weekend wrap-up at a real retreat center. In other cases, a group of friends might agree to go through the retreat online and meet in one of their homes at the end to debrief and discuss.
It might also be possible to arrange a personal video chat with a spiritual director or the leader of the retreat afterward.
I think the retreat should be available at a number of levels. If a person just wants to sign up and go through the retreat without interacting, that would be fine. Others can interact as much or as little as they wish. Physical meetings at the end would be encouraged but not required.
That's where things stand so far. I haven't yet worked out technical details for each of these elements. It appears to me that an online retreat will require a number of technical elements working nicely together. That's a challenge itself, but we'll leave that question for another day. What do you think?