Are You in Good Hands?
Daily Reflection / Produced by The High Calling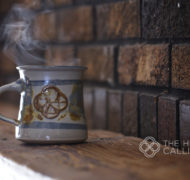 My future is in your hands. . . .
Psalm 31:15
I can still hear the television commercial's promise echoing in my memory: "You're in good hands with Allstate." In fact, this slogan was created by David Ellis, the general sales manager for Allstate Insurance Company in 1950, along with the familiar logo of two hands holding a car. Since 2004, Allstate's advertising campaign asks the question: "Are you in good hands?"

So, are you? Are you in good hands? I'm not thinking here of whether your personal property is adequately insured. Rather, is your life in good hands? Is your soul in good hands? Are you relying on protection and strength from something—better, Someone— who is truly reliable?

I've been a Christian for forty-seven years, a pastor for the last twenty-three years. (That's almost half my life. Yikes!) You might think I'd be able to answer the questions I just asked affirmatively. Surely there have been times when I could truly say that I rely fully on God, that I have placed my life in his hands. But I must confess my tendency to act as if I have slipped out of God's hands so that I might put my faith in something else, like my job, or my family, or my insurance policies(!), or my country, or my investments. It's not wrong to trust these to an extent. But if I find my sense of security in something other than God, then I have set myself up for disappointment, because they will inevitably fail.

When I consciously and consistently put my life in God's hands, when I live each day with the knowledge that I am relying on him and living for his purposes, I feel extraordinary peace. I am set free from fear of things I cannot control. The fact is that you and I will only be in "good hands" when those are the loving, strong, trustworthy, tender, protective, nail-scarred, gracious hands of our Lord.

QUESTIONS FOR FURTHER REFLECTION: So, are you in good hands? Are you living each day with an awareness of God holding you? What helps you to sense God's presence and protection? Are there specific issues in your life that you need to trust into God's strong hands today?
PRAYER: O Lord, how good it is to entrust my life to you, to place my future, my hopes, my fears, indeed, all that I am, in your hands. Thank you for protecting me, guiding me, empowering me, healing me, and holding me. I am truly in good hands when I entrust all that I am to you.

Help me, dear Lord, to live each day "in your hands." When I am tempted to trust something other than you or when fear threatens my confidence, remind me that I am safe in your hands.

All praise be to you, gracious Lord, for your good hands! Amen.