Return, O Lord
Daily Reflection / Produced by The High Calling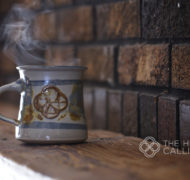 Return, O LORD, and rescue me. Save me because of your unfailing love.
Psalm 6:4
If you were reading Psalm 6 in the original Hebrew, you might be shocked by the opening imperative of verse 4 (which happens to be verse 5 in Hebrew). The verb "to return" (shuv in Hebrew) is one that the Lord often uses when calling his sinful people to repentance. In Jeremiah 3:22, for example, we read, "My wayward children . . . come back to me, and I will heal your wayward hearts." Shuv doesn't have to do with feeling sorry, but with turning around in order to face in a new direction.

Of course God doesn't need to repent in the way of sinful humankind. But sometimes it does seem as if God has turned away from us, perhaps because of our sin. Sometimes, however, it's hard to correlate God's apparent absence with our moral failures. No matter what has caused our distance from God, we need him to turn back to us, metaphorically, in order to save us.

Why would God do this? Why would God turn his face toward us, especially if he has turned away because of our sin? Why would God bother to save us? "Because of [his] unfailing love," says the psalmist. God is faithful to those who are in covenant with him, even when his covenant partners are not. Thus we call out to God to return to us, to rescue and save us, not because we deserve it, but because he is ever faithful and gracious.

QUESTIONS FOR REFLECTION: Have you ever felt as if God had turned away from you? When? How did this feel? What happened? Have you called out to God to "return" to you?
PRAYER: Gracious Lord, sometimes the language of the Psalms is startling. How dare the psalmist call upon you to return, using language that you employ when calling us to repentance! Yet there is boldness and honesty here that encourages me. When it seems as if you are far away from me, when I feel as if you have turned your face from me, I can cry out to you: "Return, O Lord, and rescue me." What a heartening thought!

Yet what's even more encouraging to me is the fact that my freedom to cry out to you doesn't depend upon me, but upon you and your unfailing love. Dear Lord, thank you for being so faithful, so gracious, so utterly trustworthy. How blessed I am to be in relationship with you! Amen.