I Do: Doing
Blog / Produced by The High Calling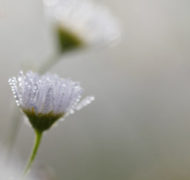 Editor's Note: This month we're in a series exploring the joys and struggles of marriage, broaching the topic from multiple angles for the sake of helping, healing, and considering.
A June afternoon, I bent over daisy heads nodding off in the heavy heat.
There was that day my Dad had picked wild daisies like these. He'd stepped onto the back porch, worn farmer's hands carrying a five-gallon pail cascading with delicate yellow faces rimmed in white veils.
"Think she'll like them?" He had asked it shyly. I remember that.
I couldn't help but smile, thinking of that tattered blue wedding album with its faded photos of Mama. Mama in a gown of pearls and lace, her slender fingers holding a bouquet of daisies.
I had nodded. "She will. And she'll remember." His smile gave way to soft laughter, to memories that belonged only to them.
A light breeze roused the daisies. There had been that day I was the bride in white, my own trembling hands clutching white petals.
With open Bible and earnest eyes, the preacher man's baritone English accent had filled the chapel.
"Today is Ann's wedding day. And so I am reminded of John Denver who once wrote a song for his wife named 'Annie's Song.'"
How did the preacher know? I caught my father's eyes. Tears spilling down his leathery cheeks, Mama gently leaned into his shoulder. A long-ago night Dad had brought home that very song. Mama had played it, "Annie's Song," like it was their song, caressing the piano so that the house danced with that kind of intoxicated love. How many evenings all during my childhood had the house filled, pulsed with the passion of "Annie's Song"?
"Yes, this old English preacher knows those lyrics: You fill up my senses/like a night in the forest/like a mountain in springtime/like a walk in the rain."
There, in my white dress, through this blur of emotion, my eyes had looked over the preacher's shoulder, embracing Dad and Mama in the second pew, and together our tears shared the remaining refrain, "Like a storm in the desert/like a sleepy blue ocean/ You fill up my senses, Come fill me again."
The preacher paused, then he had asked it. "Isn't it sad that John Denver later divorced that woman he loved so much? Isn't it sad that the great flute player James Galway, who was so entranced by that John Denver song that he recorded an entire record of songs and called it 'Songs for Annie'? He played those songs as only that Irish flute player can play—and then he divorced his wife."
My arms filled with daisies like a sheaf of summer glory, my head full of memories and long ago days, I headed up the back lane carrying that one line with me, too: And then he divorced his wife.
In the kitchen, I filled vases with daisies to celebrate our anniversary, all these years with that band on my finger. There on the table, in the heavy light, my mama's wedding flower on my wedding anniversary, picked just as my father once did for her on their wedding anniversary.
And then he, too, divorced his wife.
A pailful of wild daisies and passion will not be enough.
In the mudroom sink, I filled a tin bucket with water, arranged the last of the sunny faces. Perhaps the wooden candlesticks that witnessed our becoming one could join the daisies on the dining room table?
Then to set out the strawberry pie, the same recipe his mother made for our reception guests, the recipe I make for each annual celebration of our sacred vows, regardless of new babies, illnesses, pregnancies, or the whirl of life.
Love simply must be done, for that is what the greatest thing of all is: a verb. An act of the will.
Like deliberately purposing to daydream about him when apart, so we might be closer, the dream becoming reality when we are together.
Like falling into love routines: steaming bowl of breakfast goodness ready at his place, smile and kiss waiting for his return, bed covers turned back at day's end.
Simple, preservative acts: massaging the knots out of his shoulders while he reads the paper, leaving thank-you notes on his pillow, smiling and laughing more because he works so hard to bring happiness.
Our passion must mature beyond words to deeds: quiet, daily, self-sacrificing effort.
I snipped off a few daisy blooms to grace the pie and heard again the echo of those two radical words that reverberated off the chapel walls years ago:
I do.
* * * * *
The "I Do" Collection
Image by Jenny Downing. Used with permission. Sourced via Flickr. Post is a modified reprint by Ann Voskamp, author of One Thousand Gifts: A Dare to Live Fully Right Where You Are.