Let God Do His Mighty Thing
Blog / Produced by The High Calling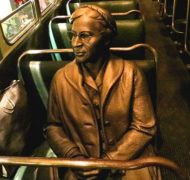 Last week, I visited with three powerfully Christian women. None of them knew each other, yet they were united to one another by an incredible faith that embraced a courage and perseverance. They have changed my everyday life with everlasting truths.
First, there was Rosa. Quiet, serene, and graceful. A gift to humankind and believers in freedom and equality. A friend re-introduced me to Rosa Parks who refused to give up her seat on a Montgomery bus in 1955. Her silent defiance to stay seated helped others to stand up for justice. Ms. Parks said, "I've been dreaming, looking, for as far back as I had any thought, of what it should be like to be a human being."
When I read that, I began crying at the thought of her supreme grace and unshakable faith amidst fear, disappointment, and pain. This woman of great dignity simply desired freedom and respect as a human being. Her faith spoke quietly and boldly when she kept her seat for basic respect and fair treatment.
Then a second woman visited me. Her name was Clara—last name unknown. This middle-aged woman was a new hire at our local H-E-B grocery store. I marveled at her mighty stature in a tiny frame. Her no-holds barred faith brought her through the perils of Katrina, and now she stood before me in the Deli Department—the busiest area of the store—telling her story of courage and determination without realizing how truly courageous and determined she was.
Clara's simple testimony of gratitude was profound, real, and practical: God is good, God is great, and everything is bound to be alright under His watch. She has lost everything—home, family, friends. Still she stands in awe and celebration of her Savior who is an awesome God.
Finally, there was Jean. Jean of many last and first names: precious, hope, generosity, truth, charity, joy, and love—especially love. Like so many, I have known Jean for a lifetime. She has been a mother/sister/friend to family, friends, acquaintances, and even strangers in need of her care.
Now Jean is dying in hospice care.
She speaks of her doctor's death edict in the same calm voice you might share news of a christening or birth. Our mother/sister/friend has already planned her memorial service: no black, no drama, no sadness. I cry silently when I leave her room. She simply accepts the Master's plan and her heaven-bound journey. Her unwavering strength, faith-filled perseverance, and giant spirit control the space and the time—offering oh-so-sweet peace for all who enter.
Three women visited with me last week—three women who danced their faith in their everyday walk—and who got out of God's way so the Master could do His mighty thing! Each taught me again how to be more thankful, present, and accountable to our Savior's glorious plan.