New Year's Resolution: Resolve to Ask God (January 3 Newsletter)
Newsletter / Produced by The High Calling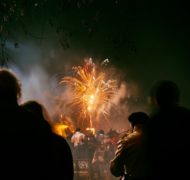 Do you have a resolution for 2018? Learn from our writers how to invite God into your plans. Trust his strength and not your own, and you can begin, endure, and finish strong.
Resolution Rebel
From The High Calling
Here are reasons to make New Year's resolutions, and reasons to forgive yourself when you break them.
Resolutions or Not, Here I Come
From The High Calling
January is the perfect time to start afresh, whether you're ready for it or not.
Reconciling the Whole World
From the Theology of Work Project
If you think you have to grit your teeth and try harder to be good, you're missing Paul's point.