God's Plan For Your Life in 2017: January 4 Newsletter
Newsletter / Produced by The High Calling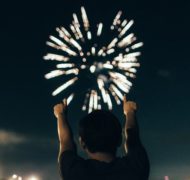 Have you adjusted to 2017 yet? Perhaps you're still writing 2016 on your checks, or maybe you've already broken a New Year's resolution.
However you feel about this New Year, whether you're optimistic about the future or full of questions, God will be with you in 2017. He has a plan to help you find direction, and he's calling you to be part of his reconciling work. (And if you don't know how, we've got a Bible reading plan that can help you figure it out.)
2017 is here to stay. Happy New Year!
Renewal
From The High Calling
I could hear God calling me, nudging me in some new direction. I needed to pay close attention. Read more
Reconciling the Whole World
From the Theology of Work Project
Paul asks us to see the world in a completely different way, so that our actions stem from new understanding, not from trying harder. Read more
A Big Gulp of New Wine
From The High Calling
When God turned my life upside down, it felt like I swallowed a big gulp of new wine, a gulp so big that it required new wineskins I was quite sure I didn't want. Read more