Pink-Collar Work: July 19 Newsletter
Newsletter / Produced by The High Calling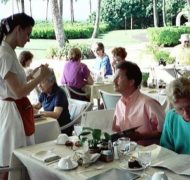 Service industry jobs, like being a hairstylist, housecleaner, or nurse's aide, are often called "pink-collar" work. Frequently (though not always) done by women, they're the backbone of the modern economy. But they're often left out of conversations about faith and work. This week, our writers rectify that omission and give us all something to consider about the meaning of service.
From Office Administrator to Family Manager
From The High Calling
I organize, attend to details, and quietly serve in love. Still more creative than administrative by nature, I'm not a perfect fit. But someone has to do it, so I do my best. Read more
No Monopoly on Ministry
From The High Calling
Michele is a hairstylist, and she sees her everyday job as a vehicle for healing the people who sit in her chair. Read more
Who is a Minister? Are You?
From The High Calling
The ministers in this story are the servants, the people who follow the commands of Jesus by fetching the water he has told them to fetch—and serving that water to the master of the banquet. Read more