Productivity: All It's Cracked Up to Be? (October 18 Newsletter)
Newsletter / Produced by The High Calling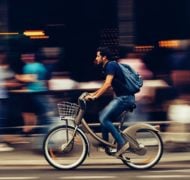 The media is full of productivity advice, often called life hacks. It turns out our work does need to be hacked from time to time, because there's a spiritual aspect to being buried under mounds of email. This week, our writers look at productivity from an eternal perspective. Surprisingly, this even involves a life hack for your email. Read on.
The Secret to Productivity and Happiness at Work
From The High Calling
There's no need to hoard your talents. The pie is unlimited. Take the time to care for others, and God will take care of you.
Time's Up! Productivity Lessons from Grading for the College Board
From The High Calling
Let us focus on what we can accomplish today by surrendering the worries of tomorrow. And let us persevere in the work God has given us.
God's Blessing is the Source of Human Productivity
From the Theology of Work Project
We must depend on the work of others, the unexpected opportunity, the burst of creativity, the unforeseen blessing.