Serving God in the Healthcare Profession: Four Reflections
Blog / Produced by The High Calling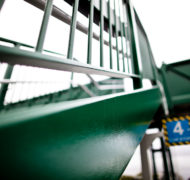 Our friends at The Washington Institute for Faith, Vocation, and Culture just published a fantastic series of articles about serving God in the healthcare profession. Four healthcare professionals reflect on what it means to listen in this profession. Web editor Jay Bilsborrow writes,
How does a fallen world begin to heal? How do the shattered pieces get put back together to form a picture that is even more beautiful than it was to begin with? The answer: piece by piece. Those called of God take up their vocations.
...This month we focus on the daily work of healthcare providers. Their work perhaps best exemplifies the importance of the practice of listening. We can be grateful for the thoughtful, skillful, and compassionate care doctors, nurses, and technicians provide daily to the broad spectrum of men, women, and children in need. Indeed, from a vocational perspective, having hands that bring healing and wholeness is tremendously honorable and redemptive work in God's world.
Read more about Healthcare Provision and the Discipline of Listening or click through directly to the four vocational reflections from healthcare professionals: